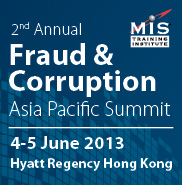 Hong Kong (PRWEB UK) 3 April 2013
Supported by the Fraud & Corruption community at large and by Directors from industry and governments internationally, MIS Training Institute's 2nd Annual Fraud & Corruption Summit will bring together Audit Directors, Heads of Compliance and Anti-fraud specialists from world-leading organisations at the forefront of fraud, corruption, investigation, risk management and crisis management. The summit will address fraudulent activities, investigation, the impact of fraudulent incidents, and the prevention of corruption through control. Building on the success of previous years, the Fraud & Corruption Summit is now the premier meeting place for senior executives who wish to network, exchange ideas and tackle best practice.
Dynamic sessions, case studies and roundtables hosted by leading experts will focus on Fraud & Corruption activities, Fraud detection using ERM, whistle blowing, the culture of corruption, conducting investigations, anti-corruption monitoring and managing loss. Interactive sessions and new case studies are designed to create debate around the latest industry issues with actionable outcomes and strategies.
"Well organized, variety of topics, provided a useful discussion and networking platform"
Compliance Manager, CBRE
"Content is very rich and the sequence is very well organized"
Vice President, CICC
In keeping with tradition, the Fraud & Corruption Summit will once more deliver an exclusive rare insight into conducting and combating complex fraud and corruption cases in Hong Kong through internal controls, with special sessions from:

Kevin Zervos, Director of Public Prosecution, Department of Justice, Hong Kong
Executive Director, Enforcement Division, Securities and Futures Commission, Hong Kong
In addition to the 2-day programme, the Pre-Summit Workshop is taking place on the 3rd June 2013. The workshop will provide an opportunity to conduct a hands-on investigation into fraud and corruption.
MIS Training Institute is the global leader in internal audit and security training and events. MIS' expertise is drawn from years of experience gained in providing industry-leading training courses, summits & conferences to professionals across the globe.