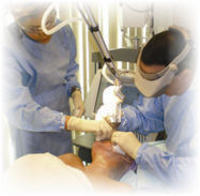 Blend in Volume Restoration using injectables such as Radiesse and Sculptra with the Fraxel Re:pair and I won't be surprised to see some phenomenal outcomes.
Orange County, Ca. (PRWEB) August 19, 2008
Well known Southern California Laser Dermatologist Nissan Pilest, a Diplomat of the American Board of Dermatology, has agreed to assume training duties for Reliant Technologies' Fraxel Re:pair Laser. The Fraxel Re:pair is the company's CO2 Fractional Resurfacing Laser developed to tighten and repair skin in a single treatment. Dr. Pilest was the first Dermatologist in Orange County to begin using the Re:pair laser in his private practice upon its release this past Spring.
As a Preceptor Physician for the Fraxel CO2 Re:pair Laser, Dr. Pilest will provide intensive hands-on training for Dermatologists, Plastic Surgeons and other physicians who wish to bring fractional CO2 laser to their patients. The laser technology requires a specific skill set to correctly and safely achieve the desired results of both Skin Tightening and Skin Repair.
"The Re:pair is a long-awaited laser," said Dr. Pilest. "Our patients have been asking for a way to solve a number of skin issues without the need for surgery or multiple procedures. California lifestyles almost guarantee an unpleasant change in skin texture and color balance with evidence of premature aging. The natural progression of collagen breakdown eventually presents itself by way of wrinkles and skin laxity. The Re:pair laser targets all these issues with a short downtime one-time procedure."
Dr. Pilest continued, "Granted, in the case of severe laxity the Re:pair does not replace traditional plastic surgery, but when used correctly in the hands of a skilled and experienced laser physician, it can provide a single-treatment solution to the multiple problems created by sun damage and the initial laxity caused by aging. We're successfully treating patients well into their 60's. Before the Re:pair Laser, there was no way you could get this multiple effect response without serious and complicated recovery time."
Dr. Pilest is using the Re:pair laser not only for sun damage and loose skin, but also for Acne Scars. "We are using the Re:pair clinically to improve the surface plane of the skin for those suffering from acne scarring," he shared. "Much acne-scarred skin has developed deep, tough scar membrane which is resistant to surface-depth procedures, making it very difficult to restore a level skin surface. With the Fraxel technology we're able to ablate tiny columns of skin, helping to "bring up" the floor of the scar tissue so the scar valleys are less noticeable. With support laser treatments using the Fraxel Re:store, we may have developed the most effective protocol for acne scarring yet."
Dr. Pilest is developing his own protocol for a multiple procedure technique to tighten skin and revolumize. "Fully combating the effects of age-related facial laxity is not just a matter of tightening. Volume deficits are created by bone loss and fat loss in the skin. Volume restoration plays an important part in rebalancing the 3-D contours of the face.
"We're using Radiesse as an instant volumizing agent, and for those who have more patience or need a more global volume effect, Sculptra - which acts as a bio-stimulator to restart the collagen production process."
As quoted recently in NewBeauty magazine as a Beauty Expert, Dr. Pilest states, "Blend in Volume Restoration using injectables such as Radiesse and Sculptra with the Fraxel Re:pair and I won't be surprised to see some phenomenal outcomes."
As a near 30-year injection specialist, Dr. Pilest has treated tens of thousands of patients. In addition to his role as Preceptor for Reliant's Fraxel Re:pair Laser, he is on the Medical Education Faculty for Bioform, a national training physician for Allergan's Juvederm products and Botox. Dr. Pilest is an Assistant Dermatology Professor for the University of California Irvine, speaker for laser and light systems and a peer-recognized leader in evaluating and implementing emerging dermatology technologies. He is also a featured Dermatology Beauty Expert with NewBeauty Magazine.
Dr. Pilest is the founding Medical Director of Total Dermatology, one of the most comprehensive Laser and Dermatology Centers in Southern California. His private practice is open to all patients seeking cosmetic enhancement and medical dermatology treatment.
Total Dermatology is located on Sand Canyon Avenue near the Spectrum in Irvine. The website Total Dermatology has extensive educational information which is updated frequently. The practice offers a free monthly Dermatology E-Newsletter. Cosmetic Consultations with Dr. Pilest are complimentary and may be obtained by calling (949) 727-3800 or (877) DrPilest.
###