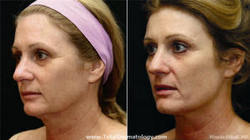 Orange County, CA (PRWEB) October 9, 2008
Early this Spring we began using the new CO2 laser from Reliant Technologies - the Fraxel Re:pair laser. We've had some unexpected levels of success and a couple of disappointments with the outcomes. All this has served to help us more precisely pinpoint who will benefit the most and who should perhaps save their money and apply it to alternate procedures.
On the positive side what we have found is an accelerated tightening response - more than we had expected. Patients in their 40' to mid 60's with early skin laxity are responding with significant tissue tightening of the face, neck and jowls. Particularly obvious improvement is seen around the eyes and on the neck and jowl. I typically treat eyelids as well and everyone has been quite pleased with the lift, tightening and smoothing in that area.
We are discovering an aggressive protocol might be the only way to really tackle the issue of deep acne scars. Because we are dealing with more fibrous scar tissue as well as normal skin in a scar patient, the power required to create substantial differences is very substantial. Turned up to top coverage levels and depth of penetration, the Fraxel Re:pair might get the job done in one fell swoop but I've not turned it up to full potential because frankly, the associated risk may is too high. The safer approach is one session, a waiting period, then a second session. Highly pronounced scars may need even a thrid session.
Currently we have acne scar patients who are undergoing their second Fraxel Re:pair laser treatment. Final collagen remodeling takes place over a number of months so essentially the jury is still out on what we can promise in this area. But at this stage it's looking very good. With the upcoming Fraxel Re:pair "lite" tip we're expecting to be able to provide a dual level procedure that will provide fully satisfactory improvement for our acne scar patients of at least a 50 to 70% scar profile reduction in 2 to 3 sessions.
Our disappointment lies in the area of melasma treatment and heavier wrinkles. We'd hoped single treatments would provide levels of correction that would be acceptable but thus far that has not been the case.
Probably because of the broad spread of the skin's pigment cells, a single Fraxel Re:pair laser treatment isn't having the impact we'd hoped to achieve for melasma. From the last few years' experience we're determining that melasma patients are better served with the series treatments from the Fraxel Re:store which is a no-downtime erbium laser. Multiple sessions seem to catch many more of the errant melanin cells that are responsible for melasma. Melasma has long been a consistently tough problem and will always require a great deal of compliance from patients in sun avoidance and sun protection; as well as occasional maintenance treatments of one ilk or another.
Heavy wrinkles aren't going to go away with a single treatment. Even though I refer to the Re:pair as the "Big Daddy" in the fractional laser, we are trying to spare our patients prolonged downtime and one of the attractions is downtime in days instead of weeks. We have some deeply wrinkled patients who are pleased enough with a first session to opt for a second, despite having to accept that downtime twice. It could be that the 2nd time's the charm in this instance. Again, the jury is still out.
We're instituting a clinical study for vertical lip lines. Many women are supremely frustrated with "smokers' lines", even though most of them never smoked in the first place! These vertical lines radiating from the lip upward are for the most part a result of muscle contraction and thus are impossible to prevent unless you simply stop speaking or eating. We're hoping between the Re:pair, a little touch of Botox and if necessary a touch of collagen filler, any woman can finally say goodbye to those lines they hate so much. Recruitment is underway at this time.
All in all, our "Big Daddy" laser is getting a lot of use and a lot of positive response. So where is it working best?
Mild to moderate wrinkles on the face and particularly around the eyes; sun damage on the face, neck and chest; lax skin on the neck and face; moderate depth acne scars. We're still having to take some extra measure of care with ethnic skin and in those cases we pre treat with a pigment inhibitor to lessen any post treatment hyperpigmentation and make sure patients fully understand their responsibility in protecting their treated skin.
It may not be the perfect laser for all situations but it's pretty darn close.
Dr. Nissan Pilest is a Board Certified Dermatologist certified by the American Board of Dermatology. He has been in practice since 1979 in Orange County as primary physician and medical director of Total Dermatology in Irvine, Ca. He is a Platinum Plus Botox provider and provides lectures and training for both Botox and Juvederm products from Allergan. Dr. Pilest is a Medical Educator for Bioform and a frequent speaker and teacher for Laser Technology. He was one of the very first to begin using the now well known innovative Fraxel resurfacing laser and the Thermage skin tightening system. Most recently in 2008 he was bestowed a Prefector position for the latest Fraxel CO2 laser, the Fraxel Re:pair. He is an Associate Professor of Dermatology at the University of California Irvine.
Dr. Pilest's private practice, Total Dermatology, maintains an educational website, http://www.TotalDermatology.com and offers a free subscription to their monthly educational E-news. Total Dermatology is located in Irvine adjacent to the Irvine Regional Medical Center and the new Kaiser Permanente facility. Cosmetic consultations are complimentary and may be arranged by calling (949) 727-3800 or (877) DrPilest.
###