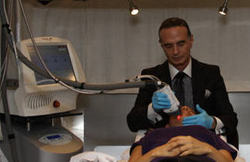 The Thulium technology is a great alternative to CO2 in dealing with superficial pigmentation, melasma and post inflammatory hyperpigmentation
Irvine, CA (PRWEB) December 18, 2009
Dr. Nissan Pilest, Orange County's most visible laser dermasurgeon, was selected to help present the latest Fraxel technology during the special Illumination Tour by Solta. In a Newport Beach stopover, Dr. Pilest boarded the custom-outfitted airstream and provided a live demo of the latest Fraxel pigmentation laser, the Fraxel Dual.
The tour crossed the U.S. in a classic silver Airstream equipped with the new Fraxel system which will now accelerate superficial pigment removal with the Thulium wavelength. The top area Fraxel physicians were hand picked to provide public educational presentations.
"The Thulium technology is a great alternative to CO2 in dealing with superficial pigmentation, melasma and post inflammatory hyperpigmentation," shared Dr. Pilest. "The Thulium provides the additional option of off face laser treatment for pigmentation on the neck, chest, arms and hands."
Top level regional representatives from Solta Medical, the parent company for Thermage and Fraxel, along with Dr. Pilest's right hand medical nurse Joanne Altamira assisted presentation attendees by providing answers to specific questions about the new laser system and how it might apply to various pigmentation problems.
"I've been dealing with melasma for what seems like my whole life," one young mother lamented. "This looks like a possible solution and I'm certainly going to give it a try."
The Fraxel Dual is a welcomed addition to the Total Dermatology practice. Dr. Pilest notes that although many patients are happy with topical programs such as Cosmelan or ViPeel or Silkpeel, others are anxious for a quicker solution to discoloration – a solution the Fraxel Thulium component promises to provide.
An additional patient friendly air cooler has been incorporated into the new handpiece. The chilled air will precisely follow the laser firing to help keep heat sensations to a minimum.
Dr. Pilest estimates that for many patients, a single treatment may be all that is needed; though patients with deeper level pigmentation may require a 2nd procedure three to four weeks later as deeper pigment must first rise to the superficial layers of the skin for adequate laser effect..
Dr. Nissan Pilest is a Diplomat of the American Board of Dermatology and an associate clinical professor at University of California Irvine. He is a national trainer for the Fraxel Repair laser, Dysport, Radiesse, Restylane, Botox and Juvederm. With close to 31 years experience, Dr. Pilest is well versed in all emerging cosmetic and corrective dermatology technology and products. Visit http://www.TotalDermatology.com for more practice information and to opt in for newsletters and educational seminar notifications. Practice Phone 949-727-3800.
###