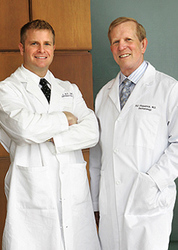 This technology is great for anyone who wants to reduce sun damage or slow the aging process.
La Jolla, CA (PRWEB) December 10, 2008
For patients in San Diego, skin resurfacing has reached a new level of innovation. Fraxel re:pair decreases years of aging without invasive surgery. Most importantly, dramatic results occur with fewer risks and a shorter recovery period - usually about a week.
Fractional Deep Dermal Ablation (FDDA™) works by incorporating a CO2 laser with Fraxel technology to target specific areas of treatment and to reach the deepest layers of the skin. This technique is particularly effective in reducing sun damage, improving texture and pigment, and smoothing and repairing scars." The tiny laser particles pass through the skin and wound the treated area. This action stimulates collagen production that is responsible for creating volume and elasticity in the skin. Because the laser is localized to the specific area, Fraxel re:pair is far less traumatic to the skin than other invasive procedures according to Richard Fitzpatrick, M.D., a board-certified dermatologist.
"The entire procedure usually takes less than one hour, depending on the intensity and treatment areas," explains Dr. Groff. "Patients have the option of using topical and pain medications or sedation for the treatment." Following the procedure, patients use creams and soaks to help the skin heal as the collagen begins to rebuild, resulting in rejuventated skin.
Dr. Fitzpatrick is one of the developers of this technology, and conducted clinical trails at La Jolla Cosmetic Surgery Centre in 2006. Since then, Drs. Fitzpatrick and Dr. Groff have performed the procedure thousands of times. Both physicians lecture and teach the procedure around the world. "It is our job to offer the safest and most effective treatments possible," says Dr. Fitzpatrick. "That's why it is so important that your treatment is performed by a board certified dermatologist or plastic surgeon who has had proper training with the Fraxel re:pair."
Dr. Groff emphasizes that San Diego skin resurfacing patients can be confident they are getting the best possible care. The facility is fully capable of handling all surgical and emergency needs. The La Jolla Cosmetic Surgery Centre is certified by the American Association for Accreditation of Ambulatory Surgery Facilities, Inc. The centre is also supported by the Scripps Memorial Hospital because LJCSC's offices are located on campus grounds.
With an in-depth consultation and evaluation by either Dr. Fitzpatrick or Dr. Groff, San Diego skin resurfacing patients can benefit substantially from this new technology. As Dr. Fitzpatrick states, "This technology is great for anyone who wants to reduce sun damage or slow the aging process."
###