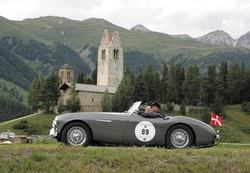 Our Healey sponsoring is a celebration of the appealing classical design and excellent engine performance of Austin Healey cars. These are the same core values we emphasize at Frederique Constant
GENEVA, Switzerland (PRWEB) September 22, 2008
Frederique Constant automatic watches are Swiss Made and have a two-way winding system that is activated by movements of the wrist. The turning rotor of these wristwatches is visible through the sapphire glass on the back of the watch. A high quality miniature Austin Healey car in a luxurious wooden box will accompany each Swiss watch.
Those who appreciate fine Swiss Made wristwatches, have always preferred mechanical watches. To a watch collector, a mechanical Swiss watch has much more character than a quartz watch as it comprises of hundreds of fine mechanical components assembled by hand. Frederique Constant implements new high tech quality control to create better, more precise and more reliable automatic watches.
Frederique Constant - Austin Healey Partnership
After having successfully sponsored the 2nd European Healey Meeting in 2004, the Dutch Healey Anniversary in 2005, the Healey Le Mans Challenge in 2006, the Healey Heidelberg Challenge in 2007, Frederique Constant is very proud to be the main sponsor of the Third European Healey Meeting in Sweden in 2008, a unique event reuniting over 250 Austin Healey sports cars dating from the early 1950s including an amazing 30 cars coming all the way from Australia, and 500 enthusiasts from over 18 different countries! More information…
"Our Healey sponsoring is a celebration of the appealing classical design and excellent engine performance of Austin Healey cars. These are the same core values we emphasize at Frederique Constant," said Peter Stas, CEO Frederique Constant Swiss watches.
About Frederique Constant
Frederique Constant is an independent family owned watch manufacturer based in Plan-les-Ouates, Geneva. The company is involved in all stages of Watch Production, from initial design to final assembly and quality control. Frederique Constant watches are defined by their high quality, differentiation and precision in design and manufacture. Frederique Constant has a passion for design of beautiful watches. Their perceived value — through quality of design, materials, and manufacture — is a key component of its success. Each watch is assembled by hand and extensively controlled with latest equipment to ensure maximum quality. The company innovates to offer creativity and exceptional value. Its 3200 square meters factory in Plan-les-Ouates Geneva is ultra modern and offers the best environment for its passionate watchmakers. Production will reach 100'000 timepieces in 2008. More information can be found at http://www.frederique-constant.com.
MULTIMEDIA GALLERY http://www.businesswire.com/cgi-bin/mmg.cgi?eid=5784482