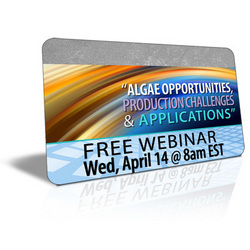 Algae Opportunities, Production Challenges & Applications]
Rotterdam (PRWEB) April 2, 2009
It is an exciting and challenging time to be involved with the effort to produce energy and fuel from Algae. Still, with all that's happening in the world, some might be concerned that the commercialization of Algae as a viable alternative to oil is at a crossroads.
Certainly the global recession is taking its toll on industries across the board, including the Algae Biofuel and alternative energy industries.
With all this in mind, Algae World 2009 is pleased to announce a free webinar to be broadcast live on April 14, 2009 at 12pm GMT/8am EDT. During this ground-breaking event, industry experts Ir. Carel Callenbach, managing director of Ingrepro B.V. and Mr. Marc Van Aken, CEO of SBAE Industries NV will share their perspective on how the Algae industry can meet today's challenges head on.
Mr. Callenbach, with nine years industry experience, is eager to speak about algae energy and commercial algae cultivation. The way he puts it, "Many people are talking about Algae, and yet, people don't know what the real answers are. I want to talk about what business model works in the Algae business. I want to talk about the future of Algae."
The free webinar, "Algae Opportunities, Production Challenges & Applications," will focus on the future that Mr. Callenbach alludes to. It will examine, among other topics, the Algae value chain and how to best monetize algae production.
According to Mark Van Aken, also a moderator of this free event, "the algae industry is a young industry and is just starting to take off. It's important that a common terminology and framework is used to help shape the industry so that people are able to make sense of it."
Mr. Van Aken has developed and patented both indoor and outdoor algae growing platforms and brings a unique point of view that most in the industry find refreshing.
During the webinar, he wants each participant to get their most pressing concerns about algae growth addressed, including the use of algae as Biofuel, getting oil from algae and other commercial uses for algae.
Both Mr. Callenbach and Mr. Van Aken plan to answer the tough questions on this webinar and expect many of today's important issues to be covered such as:

The impact of the global recession on the Algae industry
Progress in commercial algae cultivation, harvesting and processing technologies
Opportunities and challenges for algae-derived products
Scientific and technical hurdles that must still be overcome
Be prepared for an action-packed webinar that is sure to provide valuable insights from two of the Algae industry's key decision makers. You can register for free by visiting http://www.futureenergyevents.com/algae/webinar2/.
The webinar is being presented by Algae World 2009. Their goal and promise is to deliver the most current information on advances and challenges to commercial Algae cultivation, harvesting and processing.
This year's conference will be held in Rotterdam on April 27-28 and features several notable speakers from companies including Blue Marble Energy, Biocentric Energy Algae LLC, NoriTech Seaweed Biotechnologies Ltd., and many others.
Algae World 2009 is a must attend forum dedicated to mapping the entire algae value chain, from cultivation to application, and will give your Algae business the edge to stay ahead in a very competitive environment. You can register for Algae World by visiting: http://www.futureenergyevents.com/algae/attend/.
About Algae World
Algae World 2009 is a conference dedicated towards providing objective insights on the Business opportunities, as well as the latest advances and constraints in Algae cultivation, harvesting and processing. Algae World is organized by the Centre for Management Technology whose mission is to provide access to the latest technology and business intelligence through high profile alternative energy conferences.
# # #