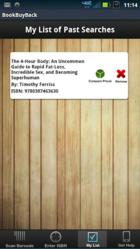 Jupiter, FL (PRWEB) July 31, 2012
College textbooks cost a fortune and more often than not students let their used books collect dust once they are through with them. BuyBackTextbooks' brand new app for Android devices offers a textbook buy back service that is absolutely free for anyone to use – turn old books into cash quickly.
"While in college I know most students are strapped for cash which is why we developed our new BuyBackTextbooks Android app," says owner David Batchelor. "Instead of wasting thousands of dollars in unused textbooks, students can now use our price comparison service to make some quick cash right from their mobile phone."
The new BuyBackTextbooks app works on all Android devices, is absolutely free to use and offers instant search results. To get started, download the app for free via the Google Play store, enter the ISBN or scan the barcode (requires app) of the used textbook to be sold and browse the results of merchants that offer textbook buy back services – choose the store that is offering the most amount of money for the book. The merchant selected will offer a pre-paid shipping label – simply print it out, place it on a box that contain the used textbooks being sold and in approximately a week, payment will be sent via check or PayPal.
Turn old college textbooks into cash by downloading the free BuyBackTextbooks Android app today on the Google Play store!
About BuyBackTextbooks
BuyBackTextbooks.com was founded in 2012 and aims to offer college students an efficient resource to search online retailers that offer a textbook buy back option for used textbooks. The addition of their brand new Android app for mobile phones and tablets is just an example of their on-going efforts to provide a great service and make students the most amount of money possible from merchants that offer to buy back textbooks.
For more information on how to use the Android textbook buy back app, please visit http://www.buybacktextbooks.com or call 866.437.3331. You can also email support(at)buybacktextbooks(dot)com for additional information.
###