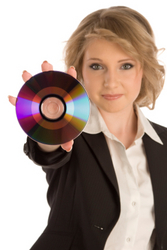 Old Saybrook, Connecticut (PRWEB) February 24, 2009
CD Dimensions, Inc, a leading reseller of Blu-ray disc Recordable Disc Technology, announced today the release of their new Free Blu-ray Recordable Buyers Guide that provides educational information on Blu-ray duplicator, disc printers, Blu-ray packaging and printable Blu-ray recordable blank media. The guide contains over twenty pages of information on recordable Blu-ray technology.
Blu-ray disc is a rapidly expanding high definition video format that provides an increase in video content by 5 times in comparison to DVD-Video discs. Audio is expanded to 7.1 surround sound from DVD 5.1 for even better sound then before. High definition adds display resolution of 1920 x 1080 (1080p/1080i) depending on HD format making for a sharper and brighter viewing experience to the user. This displays exceptionally well on today's large LCD and Plasma screens.
Recordable Blu-ray format puts Blu-ray technology into the hands of the consumer and gives them increased storage capacity for data storage (like photos, home movies) and allows for the ability to record high definition video onto disc
There has been a lot of excitement around Blu-ray disc for the consumer market however recordable Blu-ray offers significant advantages to the business market too. Blu-ray is not affected by strong magnetic fields and does not have contact with the reading/writing head like tape. Archive life expectancy is in the 20-30 year range. This makes recordable Blu-ray discs ideal for storing photo images, video and data archiving.
The guide can be requested from CD Dimensions by filling out the information request form at Free Blu-ray Recordable Buyers Guide.
About CD Dimensions:
Established in 1995, CD Dimensions, Inc, A value add technology reseller located in Old Saybrook, CT, is an authorized reseller for the leading manufacturers in the recordable Blu-ray, CD and DVD Duplication, media supplies and optical mass storage systems arena. This includes Rimage, Microboards Technology, R-Quest, MF Digital, Taiyo Yuden and many others. CD Dimensions online catalog offers a wide range of Blu-ray recordable discs, duplicators, DISC optical libraries, CD DVD media and CD DVD Blu-ray packaging. CD Dimensions can be accessed on the web at http://www.cddimensions.com.
# # #