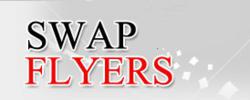 Warner Robins, Georgia (PRWEB) September 26, 2012
Swap Flyers today announced a major expansion of the Cash for Charity initiative to help struggling local charities. The company's website serves as an exchange manager between the advertiser and commercial business owner. Businesses who register are able to utilize the database information to find effective locations to do advertise. To be a part of this service, all commercial business owners and advertisers need to agree to exchange: Flyer Advertising, Flyer Distribution, Flyer Posting, Flyer Space, Discounts Information, and Cash Credits.
In a perfect world, everybody's needs would be met. No one would be left hungry, and charities would have infinite and limitless resources to help people in need of essential items like food, water, clothing, shelter and medicine. But unfortunately, the majority of the charities are profoundly reliant on on the generosity of their supporters, especially when contributions fall with the slowing of the economy.
"Swap Flyers is committed to helping local charities acquire the necessary funds they need to operate," said Mack Freeman, Founder of Swap Flyers. "Our online swap flyer website provides advertisers and commercial business owners with ample opportunities to raise money online for the charity of their choice and has put together a number of programs aimed to enhance their cash for charity initiatives.
How does it work?
Once commercial business owners register their location, they instantly become qualified to have other businesses advertise their flyers at their location. When other businesses advertise their flyers at their location, businesses, offering their premises to advertisers, start to earn credits. These credits can be used towards advertising their business in other locations or raising funds for local charities.
About Swap Flyers:
Swap Flyers is a discounted, low-cost source for free business advertising that allows commercial business owners to easily set-up a barter-like exchange and advertise their goods and services in other local businesses' commercial areas. All advertising campaigns last for 90 days, and are renewable or terminable thereafter.
What are the advantages to using Swapbusinessflyers.com?

It is far cheaper than the typical postal service
It helps raise money in support of local charities
It gives easy access to databases that match commercials companies with effective locations to advertise
Businesses can earn commission for posting flyers in facilities