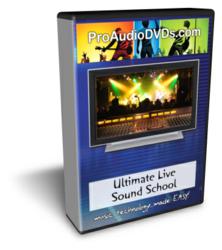 Most churches I know have the right gear...they just need the proper training
Denver, CO (PRWEB) January 30, 2012
A new video course geared towards Sound volunteers in local churches has been released by ProAudioDVDs.com, the leader in training audio engineers on the internet.
The free church sound training course outlines the 5 major mistakes that are made when mixing sound in the local church.
Founder of ProAudioDVDs.com, David Wills explained, "My goal was to take everything I have learned working for the biggest touring acts in the world such as Michael Jackson, Whitney Houston, Phil Collins and Diana Ross...and blend it with my experience running sound in the church with Israel Houghton and BeBe Winan sand mixing literally thousands of sermons and worship services in the Church. My goal with this free course was to take all of that combined knowledge and cram it all into series of video lessons that any Church can view and hand to a volunteer and have them up and running in a week."
"Too many churches have all the right equipment, but the staff running them are poorly trained. And their are precious few resources out there that teach all the basic of how to run sound, eliminate feedback and blend a great mix that you can be proud of."
The lessons are taken from ProAudioDVDs.com's "Ultimate Live Sound School".
The DVD box set covers the following subjects.
Introduction to Live Sound
What's the goal?
What is a sound system made up of?
What is the role of a live sound engineer?
Sound Theory
What is Sound?
Understanding Levels
Understanding Frequency Spectrum
Understanding Acoustics
The Equipment
Can you design it yourself?
(Music Store vs. Professional Designers)
Choosing a Vendor
Snakes
Mixing Consoles
Amps
Speakers
Monitors
Effects
Microphones
Wireless Systems
Setting Up the Stage
Overview
Input Types
Mic Selection/Placement
Monitor Placement
Front of House Speaker Placement (Delays)
Using a Mixing Console
Overview
Input Channel
Aux Sends
Using Effects
Monitor Mixes
SubGroups
Advanced Applications
Troubleshooting
What kinds of problems will you have?
Understanding Signal Flow
Troubleshooting Logic
Line Checks
Wireless Systems
Feedback Issues
Distortion
Sound Checks
Mixing
Breakdown of the tools available
Blending Levels
Using EQ
Controlling Dynamics
Using Effects
Monitor Mixes
Recording/Duplication
Recording
Duplication
Details of the free church sound training can be found here
https://www.proaudiodvds.com/free-church-sound-training
David Wills has produced over 50 DVDs in the nearly 20 years since he launched ProAudioDVDs.com. As an Audio Engineer and Consultant for artists such as Michael Jackson, Phil Collins, Earth, Wind & Fire and Diana Ross, David brings real world experience from the pro world but in any easy going conversational style of presentation.
About ProAudioDVDs.com
Founded in 1992, ProAudioDVDs.com has produced over 50 training DVDs on the operation of music production equipment. Partnered with industry leaders such as Roland, Tascam, Korg & Zoom, it is celebrating nearly 20 years of being a market leader in product training resources for recording and live musicians.
###