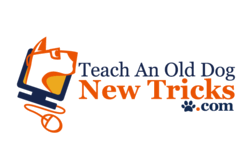 Boston, MA (PRWEB) October 11, 2011
Do you feel like an "old dog" when it comes to your computer skills? In this rough economy, many companies have cut back on technology training for their employees, and the unemployed often can't afford the training they need to gain the computer skills necessary to compete in the job market. Boston-area software trainer and business owner Tony Holowitz is there to help by offering more than 55 hours of free computer training videos and tutorials (available 24/7/365) to anyone who wants it through his website http://www.TeachAnOldDogNewTricks.com.
TeachAnOldDogNewTricks.com offers free computer training videos in Microsoft Word, Excel, PowerPoint and Outlook, as well as, Social Networking, Computers 101: Beginners, the Internet, QuickBooks, web design and ACT!, a very popular contact manager which is a great tool for small business people and salespeople. Even experienced computer users will find http://www.TeachAnOldDogNewTricks.com to be a great resource to be visited over and over.
"My motivation for offering free computer training," says Holowitz, "is the almost daily news stories of people down on their luck, barely able to make ends meet. My hope is that this training can help people enhance their skills enough to get a job, or maybe even start a business." Holowitz has over 13 years' experience teaching people the ins and outs of computers and software programs, and enjoys the challenge of training users at all skill levels.
Can you teach an old dog new tricks? When it comes to computers, Holowitz has proven he can at http://www.TeachAnOldDogNewTricks.com.
###