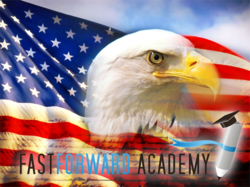 The G.I. Bill will cover certification and licensing up to $2,000 per exam whether a pass or fail is received
Orlando, FL (PRWEB) June 21, 2012
Fast Forward Academy provides high-quality training resources for tax professionals, helping aspiring Certified Public Accountants pass the difficult CPA certification exam. Fast Forward Academy also has a tremendous amount of respect and a deep appreciation for anyone who has served in the U.S. military or reserves.
Fast Forward Academy wants to ensure that active duty members, reservists and veterans are aware that through the G.I. Bill, they can obtain certifications required to accelerate their military and/or civilian careers as an Certified Public Accountant.
"The G.I. Bill will cover certification and licensing up to $2,000 per exam whether a pass or fail is received, but at Fast Forward Academy we want to see people succeed and move forward in their careers. While the G.I. Bill covers the CPA exam fee, it does not cover the cost of study materials. You can, however, submit for approval and reimbursement of the cost of the CPA exam fees. Our study guides are very affordable and will help you pass the CPA exam on the first try," says Matt McBride, Fast Forward Academy President.
Fast Forward Academy offers several products to help aspiring Certified Public Accountants pass the difficult CPA exam and the cost varies depending on the package. You can purchase exams separately or in a bundle. The different CPA exams are in: Auditing & Attestation, Financial Accounting & Reporting, Regulation and Business Environment & Concepts. Fast Forward Academy offers exam preparation materials to help accelerate a student's success in all of these areas.
With the advanced technology offered by Fast Forward Academy's CPA exam preparation materials and study guides, and having the CPA exam fees covered by the G.I. Bill, members and veterans of the U.S. military are perfectly poised to succeed quickly. Click for more information about the G.I. Bill.
About Fast Forward Academy
Fast Forward Academy, LLC provides companies and individuals around the world with the tools to help them efficiently manage their professional education needs. The name Fast Forward Academy reflects the scope of our mission—helping students and professionals accomplish more in less time. To realize this goal, we make every effort to provide the most useful and efficient exam prep material in the market place, all designed to help our students Learn Fast and Pass. Our principal focus is to supply rapid training and streamlined continuing education to professionals in the fields of taxation, securities and insurance.