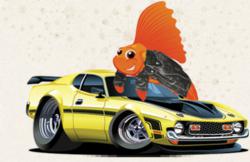 I think it's awesome that a guy as prominent as Bret Michaels is stepping out to make a statement promoting credit score awareness.
New York, NY (PRWEB) January 05, 2013
RoadFish.com men's lifestyle and finance magazine today issued their support of Bret Michaels and his new role in the FreeCreditScore TV ads. RoadFish.com commended Michaels for being a role model to his fans in practicing good credit report practices, as the popular Poison singer encouraged his followers to check their credit reports especially during the holiday season.
In a statement released on his website by Poison front man Bret Michaels on December 22nd, the 49-year-old musician wished his family, friends and fans a happy holidays. As an early Christmas present he included a link to his new commercial for FreeCreditScore.com so that his fans and followers could be among the first to have a sneak peak at the ad. The Score Planner Bret Michaels commercials officially aired on TV four days later, on Wednesday December 26th. Michaels goes on to recommend a free credit report check in the midst of the hustle and bustle of the holiday season. He is quoted on his site as saying, "While I'm thinking about it, this would be a great time to remind everyone to have your credit report checked. With the holiday shopping excitement in the air, sometimes things could show up on your credit report that you didn't know were there. FreeCreditScore will keep you safe with accurate credit reporting data for you…personally."
RoadFish.com supports Michaels' advocacy of practicing smart financial decisions during such a busy time, and urges consumers to take the rocker's advice to heart in the New Year. RoadFish.com's Senior staff writer is quoted as saying, "I think it's awesome that a guy as prominent as Bret Michaels is stepping out to make a statement promoting credit score awareness. The fact is that debt is kind of out of control in the U.S., and it's time more people took their credit and debt issues seriously. Michaels makes a good point that consumers should check their reports, not just to see where they're clocking in, but also to make sure there are no inaccuracies that could be costing them precious points. I think a great New Year's resolution for many would be to actually check their credit report and score this year, and then get to work on improving both if they're not quite up to snuff."
FreeCreditScore has launched four new creative ads to promote its new Score Planner tool, according to an Experian press release. All of the ads feature a young couple sitting together on the couch, exploring the "slider" tool used in Score Planner to show how different circumstances will affect their credit scores.
RoadFish.com applauded FreeCreditScore's new commercial series, touting the company as having a "killer" advertising team. RoadFish.com's Senior staff writer is quoted as saying, "When I first saw the Bret Michaels FreeCreditScore commercial, I laughed to myself. Not gonna lie, it made me want to grab a cowboy hat and some bad-boy sex appeal, and run to a bar to croon some 'Poison' during karaoke. FreeCreditScore has a knack for coming up with funny, memorable ads and this series isn't any different. I feel like there are so many commercials on TV these days that I just fast forward through, never giving the time of day. I've seen three out of the four commercials for this series, and they're all memorable. Hats off to the creative team working for FreeCreditScore on making ads that actually stand out."
Ken Chaplin, the senior VP of marketing for FreeCreditScore, is quoted in the above-mentioned press release as saying, "The new Score Planner is an easy-to-use online tool that helps people visualize what impacts their credit scores. We think it will improve people's understanding of credit scores, and the ads are a humorous take on that. Bret Michaels' fame lends itself well to the ads and underscores the message that, ultimately, managing one's financial profile makes many life experiences more accessible."
About RoadFish.com:
RoadFish.com is an online magazine that serves up lifestyle and finance articles for men. RoadFish.com writes towards a demographic of male readers in their 30's and 40's, who have achieved a decent level of success in life and are striving for more. RoadFish.com offers advice to men on a variety of topics including real estate investments and online dating reviews. RoadFish.com also focuses heavily on sharing financial wisdom such as how to improve one's credit score, and how to make and keep a financial New Year's resolution. RoadFish.com is owned and operated by Purpose, Inc.