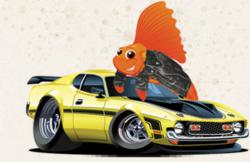 They are wonderful at streamlining financial information, giving reminders for when to pay bills, and offering financial summaries.
Los Angeles, CA (PRWEB) December 27, 2012
RoadFish.com men's lifestyle and finance magazine today issued their support and praise for Experian, one of the three major credit reporting agencies in the U.S. (next to TransUnion and Equifax) on its recent launch of a new financial educational tool. Experian's new tool is designed to assist consumers in understanding what sort of actions and scenarios will have an impact on their credit score. RoadFish.com dubbed Score Planner as "highly resourceful," and encouraged its readers to take advantage of the new tool, available to them for free.
In a press release published by Experian on Friday it states that FreeCreditScore.com (a website owned and operated by Experian) was announcing the launch of a patented new online tool named Score Planner. The financial tool is something of an educational instrument in its design and intention, aimed at helping consumers to better understand what goes into factoring a credit score and what types of actions and scenarios will influence that score. The press release states that a new ad campaign for the tool, slated to go live on December 26, features Poison front man Bret Michaels.
Experian's press release goes on to quote Ken Chaplin, the Senior vice president of marketing for FreeCreditScore.com, as saying: "The new Score Planner is an easy-to-use online tool that helps people visualize what impacts their credit scores. We think it will improve people's understanding of credit scores, and the ads are a humorous take on that. Bret Michaels' fame lends itself well to the ads and underscores the message that, ultimately, managing one's financial profile makes many life experiences more accessible."
RoadFish.com applauded FreeCreditScore.com for its innovative new tool. RoadFish.com's Senior staff writer is quoted as saying, "There are a lot of available financial apps out there, many of while I support and use myself. They are wonderful at streamlining financial information, giving reminders for when to pay bills, and offering financial summaries. But Score Planner is different in that it takes on more of the concept of 'teach a man to fish.' It goes beyond simply streamlining bank accounts and showing consumers what their finances look like in the present, it takes things to another level and actually shows possible scenarios that could happen in the future that could effect credit. I haven't seen anything quite like it on the market yet, and I hope that people jump on this."
The above-mentioned press release reports that the new ad campaign features a free credit score mystery slider commercials, showcasing young couples in each commercial who are sitting on a couch, and viewing a slider that projects different scenarios and how each one will effect their credit—actions such as changing their credit limit, paying a bill late, or opening a new credit line. Bret Michaels comes into play during a "mystery slider" featuring a private rock concert as one of the results of moving this particular slider.
RoadFish.com appreciates the inventive new twist on credit score planning, and suggests that consumer incorporate it into their financial New Year's resolutions. RoadFish.com's Senior staff writer is quoted as saying, "I've tested out the Score Planner tool myself and I think it's a really nifty way to better comprehend how certain choices you make can impact your credit. I wouldn't be surprised if many consumers are confronted with realizing that their credit is impacted by a lot more than they think. It seems like a tool that could really raise awareness, which I like a lot. In my opinion, this is the perfect time of year to launch something like this, since so many people will be making money and finance-related resolutions next week. This is a wonderful tool to integrate into financial New Year's resolutions to help consumers become more educated, aware and financially responsible."
FreeCreditScore.com is part of a group of online consumer credit reporting sites that belong to Experian-owned company ConsumerInfo.com, Inc. ConsumerInfo.com, Inc. was founded in 1995 with the intention of providing consumers with easy and inexpensive access to their credit profiles and is now one of the leaders in providing electronic consumer credit reports.
About RoadFish.com:
RoadFish.com men's lifestyle and finance magazine is aimed at male readers in their 30's and 40's. RoadFish.com looks to inspire and inform already highly motivated men in the areas of dating, personal finance, and travel. Common articles revolve around financial software, short term investment options, luxury men's items, and hot chicks. Personal finance articles offer credit advice and suggestions on New Year's financial resolutions. RoadFish.com is owned and operated by Purpose, Inc.