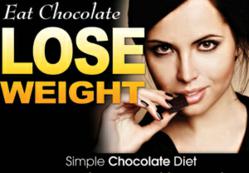 A free diet guide download is now available from natural wellness company, True Healthy Products.
(PRWEB) February 23, 2012
All natural health and wellness company, True Healthy Products is now offering a free download of their "Simple Chocolate Diet." The diet is an eating plan for gradual weight loss and can be used to achieve different weight goals.
The free diet guide download of the Simple Chocolate Diet can be acquired on the company's website: http://www.simplechocolatediet.com/.
The download for the Simple Chocolate Diet contains general daily eating tips which include ideas for people that do not eat meat as well as those that do not like vegetables. There are several pages of food selections that are itemized and numbered as Category One foods, Category Two foods or Category Three foods. According to the diet guidelines, if users follow the simple numbering system to make daily food choices, it will aid in weight loss or maintenance goals.
The Simple Chocolate Diet is written around two healthy dark chocolate selections, "The Doctor's Chocolate" and "True Healthy Dark Chocolate," which are both available for sale from True Healthy Products. Each variety is full of antioxidants; sweetened with xylitol, a naturally occurring sweetener from plants instead of sugar and acts as appetite suppressants.
The free download contains information about nutrition and gradually losing weight in a healthy way by making small lifestyle changes on a day to day basis. The company decided to recently release the diet guide for free, to educate people about making healthier eating habits and to introduce their diabetic friendly dark chocolates.
For more information about the science behind the chocolates and the Simple Chocolate Diet, visit the companies website http://www.truehealthyproducts.com/products/dietary/the-simple-chocolate-diet.
True Healthy Products has supplied all natural health, wellness, and fitness supplements and products to the public since 2007. For 2012 the company will be expanding it's product line to include all natural skin care and other diet products. For information about wholefood vitamins, natural remedies, weight loss products and sports nutrition products offered by True Healthy Products, visit Truehealthyproducts.com.
True Healthy Products, LLC
2460 N. Courtenay Pkwy, #210
Merritt Island, FL 32953
Truehealthyproducts.com
888-400-2920
###