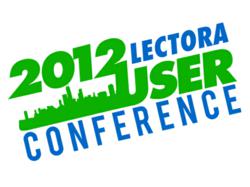 The 2012 Lectora User Conference Appreciation Pack is filled with e-Learning goodies designed to show our users how much we value their continued support
Cincinnati (PRWEB) March 01, 2012
The Lectora® User Conference announces attendee Appreciation Pack for the first 500 people that register for the event. The pack contains more than $800 worth of free e-Learning products and services, including the latest rapid e-Learning sensations, Snap! by Lectora® and Snap! Empower™. Held in Chicago May 22-24 at the Chicago Marriott Downtown Magnificent Mile, the Lectora User Conference gathers hundreds of e-Learning professionals from around the world to expand their e-Learning skills, knowledge and network.
"The 2012 Lectora User Conference Appreciation Pack is filled with e-Learning goodies designed to show our users how much we value their continued support," said Peter Bray, Chief Marketing Officer at Trivantis Corporation. "By attending the much-anticipated e-Learning event of the year, attendees will get the opportunity to network with peers, take part in more than 20 in-depth sessions and will now also receive over $800 worth of valuable products and services to greatly enhance e-Learning development."
The first 500 Lectora User Conference attendees will receive an Appreciation Pack including:

1 free license of Snap! by Lectora® rapid e-Learning software
1 free license of Snap! Empower™ Flash interactions builder
The eBook "Exploiting Chaos: 150 Ways to Spark Innovation" by Jeremy Gutsche
A free copy of "Get Bold" by Sandy Carter
A surprise Appreciation Pack addition valued at approximately $600!
In its eighth year, the Lectora User Conference proves to be the greatest value for e-Learning professionals from around the world. Attendees gain exclusive access to keynote speakers Jeremy Gutsche and Sandy Carter, dozens of e-Learning presentations, endless e-Learning tips and tricks, free products and services and valuable networking opportunities. For the first time, attendees will also have the chance to connect with Lectora User Conference exhibitors who will showcase their complementary products and services for e-Learning.
In addition to a full two days of e-Learning, conference attendees will also have fun and experience Chicago while they're in the Windy City. The 2012 Lectora User Conference will kick off in style with a 1920s Speakeasy Welcome Reception and will say farewell to attendees with a fabulous Closing Celebration atop Willis Tower, formally known as Sears Tower. All e-Learning sessions, opportunities and receptions are included in the conference registration.
For more information about the Lectora User Conference Appreciation Pack, schedule and more, please visit: 2012 Lectora User Conference.
About The Lectora User Conference and Trivantis Corporation
The Lectora User Conference is a leading e-Learning industry event that attracts professionals from around the world to advance their development skills, increase their e-Learning knowledge and network with other e-Learning professionals. As the flagship product for Trivantis, Lectora® is the world's leading e-Learning software used by most Global 2000 companies in more than 125 countries and is offered in six languages. The Lectora line of e-Learning products includes Lectora Inspire, Lectora Online, Lectora Publisher and Lectora Integrator. Trivantis also produces Flypaper™, the leading Flash content creation platform that empowers users to create, edit, share, track and reuse high-impact Flash and video content. Snap! by Lectora® is the easy-to-use PowerPoint plug-in rapid e-Learning software that converts PowerPoint to Flash. Its sister product, Snap! EmpowerTM Flash interactions builder, enables anyone to create Flash content without having to know Flash programming. To round out the Trivantis family of products, CourseMill is the powerful and affordable learning management system (LMS). Headquartered in Cincinnati, Ohio, Trivantis Corporation also has offices in Boca Raton, Phoenix, Paris and London. Trivantis, Lectora, Flypaper, CourseMill, Snap! by Lectora and Snap! Empower are trademarks of Trivantis Corporation.
Website: http://www.Trivantis.com
Phone: 877.929.0188
Facebook: facebook.com/Trivantis & facebook.com/SnapByLectora
Twitter: twitter.com/Lectora
Blog: trivantis.com/blog & SNAPbyLectora.com/e-Learning-blog
###