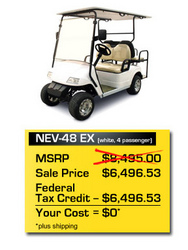 You must purchase a qualified vehicle on or before December 31, 2009 to qualify for the tax rebate to get your free electric vehicle. This is even better than the cash for clunkers or the homebuyer's rebate
Arizona (PRWEB) December 14, 2009
The government wants to get gas-powered cars off the street by giving such a big tax rebate on electric cars, that they are free. Demand is high -- http://www.FreeElectricCar.com is "selling" around 60 golf carts (or electric vehicles) a day.
The story was featured last week on CNN Anderson Cooper and on Fox Business with John Stossel and ABC News. Customers like the free and green aspect of the cars.
Here are the top 5 benefits to owning an electric car:

Less gas-powered cars on the road. 65% percent of U.S. families own a second car, yet over 50% of urban trips last less than ten minutes. These trips are perfect for an electric vehicle.
Less wear and tear and damage to the environment. 80% of all trips are within 10 miles or less in a traditional automobile. This results in cold running motors and cause excessive engine wear and more pollutants. An electric vehicle is the right "tool" for most of transportation jobs.
Go green - many politicians are glad to see gas vehicles off the street and prefer to see more electric vehicles in their place.
Easier maintenance. With an electric vehicle there are no annoying lines at the pump, oil stains, tune-ups, oil changes, radiator coolant, emissions tests, muffler replacements, transmission woes, and many other common headaches of today's "modern" combustion automobile.
It's economical. An electric vehicle offers a great value compared to buying a second car. The initial purchase price, maintenance, insurance and cost of operation represent a very real and stylish alternative to a traditional gas-powered car for those around-the-neighborhood trips.
"Hurry to cash in on one of the best opportunities yet for tax payers. You must purchase a qualified vehicle on or before December 31, 2009 to qualify for the tax rebate to get your free electric vehicle. This is even better than the cash for clunkers or the homebuyer's rebate," said Drive Electric CEO Colin Reilly who started http://www.freeelectriccar.com
With each electric vehicle purchased, the owner will receive a certified "Proof of Purchase" to document the date of purchase and a copy of the IRS Certification letter. Then they should use the new tax form 8936 to claim the credit. The vehicles can be purchased online and take approximately 4-6 weeks to be delivered.
It is a tax credit which means a dollar for dollar reduction in taxes owed to the IRS. It is not an income deduction. For example, a 4 passenger vehicle at http://www.FreeElectricCar.com is on sale for $6,496. The tax credit is also $6,496 - making the vehicle free.
To meet the requirements are low emission and have seat belts, lights, turn signals and most safety items that are on a car. They travel 25mph and are street legal.
Press Contact:
Damon Skondin
520-882-9200
damon at JustDriveElectric.com
###