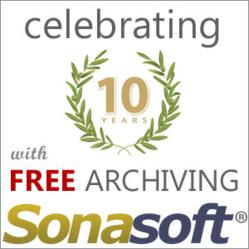 We thank our customers for 10 years of service by offering FREE Email Archiving Licenses to all.
San Jose, California (PRWEB) November 06, 2012
Sonasoft Corp., a leader in enterprise-class email archiving, celebrates ten years of being in business with value-add solutions to Microsoft business applications. As part of the festivities, Sonasoft will give away 50 licenses to its SonaVault Email Archiving Software to the first 50 customers who sign up starting on November 6, 2012. These email archiving software licenses are free for the purchase of Sonasoft's professional installation and the first-year's maintenance contract. For example, 100 mailboxes will just come to $1,500. Additional discounts on Sonasoft's other email archiving solutions and services will be announced.
"We are very excited to be celebrating ten years in business", said Andy Khanna, President and CEO of Sonasoft. "Our early products focused on backup and recovery for Microsoft SQL Server and Microsoft Exchange Server. We combined our knowledge in both technologies to deliver SonaVault Email Archiving Solutions, which use industry standard Microsoft SQL Server data stores and works seamlessly with Microsoft Exchange Servers. Our customers love that our email archiving solutions can reduce the size of their Exchange Servers up to 80 percent. This makes their backup and recovery time as well as their Exchange Server maintenance a breeze. They also appreciate our enterprise-class email archiving features that allow for content identification, email sampling, and review management. This helps keep organizations safe and on good legal standing. Now, anyone can get the benefits of our enterprise-class email archiving solutions, for we will give our software licenses out to the first 50 customers."
More details about Sonasoft's limited Tenth Anniversary Free Email Archiving Software License Special:
http://www.sonasoft.com/products/email-archiving-promotions/free-email-archiving
To obtain a free assessment and learn more about SonaVault Email Archiving Software:
http://www.sonasoft.com/products/sonavault-email-archiving-software/
About Sonasoft:
Sonasoft is celebrating its 10th Anniversary of providing enterprise-class archiving and business continuity software solutions for Microsoft Business Applications on Microsoft Windows platforms. Sonasoft's signature products for email archiving, SonaVault Software and SonaVault Appliances, deliver affordable enterprise-level functionality that meet compliance and ease-of-use requirements of small and medium-sized businesses and enterprises. Sonasoft email archiving solutions have 100's of deployments with an exceptional rate of high customer satisfaction. Founded in 2003, the company is headquartered in San Jose, California.
For a no-cost assessment regarding Sonasoft archiving products and services, contact:
Andy Khanna
CEO and President of Sonasoft Corporation
Direct - (408) 708-4000
Mobile - (408) 893-8210
Source: http://www.sonasoft.com