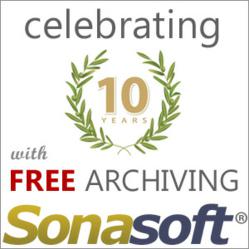 Free enterprise-class SonaVault Email Archiving Software comes with a genuine license of Microsoft SQL Server.
San Jose, CA (PRWEB) February 12, 2013
Sonasoft Corp., a leader in enterprise-class email archiving, continues to commemorate its ten years of business with value-add solutions to Microsoft business software and applications. As part of the celebrations, Sonasoft will give away 50 additional no-cost licenses to its SonaVault Email Archiving Software to the next 50 customers. This second batch of email archiving software licenses is free for the purchase of Sonasoft's professional installation and the first-year's maintenance contract. For instance, 100 mailboxes will be around $1,790. Additional discounts on Sonasoft's email archiving solutions and email archiving appliances are available.
"Sonasoft is excited to continue its tenth anniversary special for no-cost email archiving software licenses to our next 50 customers", said Andy Khanna, President and CEO of Sonasoft. "We are so amazed at the approval rate that businesses from all sectors and sizes had in snapping up our first free 50 email archiving licenses that we couldn't resist not to give out another 50 licenses. Our email archiving solution includes a genuine license of Microsoft SQL Server, the industry standard in data stores and database management. Microsoft SQL Server allows our SonaVault Email Archiving Software to create multiple data stores on the fly. This allows our email archiving solutions to search and retrieve 100,000 emails in less than five seconds. Some competing solutions cannot even retrieve 5,000 emails in one search, which makes eDiscovery a living nightmare. Likewise, SonaVault's Email Archiving Software uses true stubbing technology that can reduce the storage of a Microsoft Exchange Server by up to 80 percent. This offloading the Exchange Server has saved the skin of many of our customers, and we are continuously thanked for offering this service at such an attractive rate. We are glad to return something to the IT industry by once again offering our email archiving software licenses for free."
Details about Sonasoft's limited Tenth Anniversary Special for no-cost email archiving software licenses:
http://www.sonasoft.com/products/email-archiving-promotions/free-email-archiving
To obtain a no-obligation assessment and discover more about the power of SonaVault Email Archiving Software:
http://www.sonasoft.com/products/sonavault-email-archiving-software/
About Sonasoft:
Sonasoft is celebrating its 10th Anniversary of providing enterprise-class archiving and business continuity software solutions for Microsoft Business Applications on Microsoft Windows platforms. Sonasoft's signature products for email archiving, SonaVault Software and SonaVault Appliances, deliver affordable enterprise-level functionality that meet compliance and ease-of-use requirements of small and medium-sized businesses and enterprises. Sonasoft email archiving solutions have 100's of deployments with an exceptional rate of high customer satisfaction. Founded in 2003, the company is headquartered in San Jose, California.
For a no-cost consultation regarding Sonasoft archiving products and services, contact:
Andy Khanna
CEO and President of Sonasoft Corporation
Direct - (408) 708-4000
Mobile - (408) 893-8210
Source: http://www.sonasoft.com