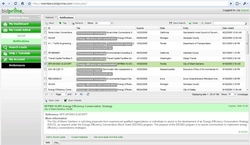 Most purchasing sources, including FedBizOps, do not make targeted RSS feeds readily available for niche markets
Austin, TX (PRWEB) September 23, 2009
BidPrime.com, an online subscription service providing government bids and contract intelligence to small businesses, announces the launch of its new RSS feeds feature for vendors today.
The feeds target 10 key vendor industries, including HVAC installation, security services, janitorial cleaning bids and more. In addition, BidPrime now publishes a feed of real-time federal recovery contract leads to track federal contract opportunities and stimulus projects.
The RSS feeds are available for the public, vendors, media, and trade organizations at no cost. "Most purchasing sources, including FedBizOps, do not make targeted RSS feeds readily available for niche markets," said Stephen Hetzel, BidPrime's Operations Officer and Product Developer. "BidPrime's RSS feeds are a flexible and interoperable tool for businesses to integrate information into their current procurement systems."
BidPrime's real-time government bid feeds can be used by any RSS reader utility, published on company intranet sites, or viewed using BidPrime's real-time government bid index located on its website. "These feeds are available without a subscription to BidPrime, but users can tailor more specific searches, save leads, track contract intelligence, and use more of BidPrime's bid management utilities for a low monthly fee," said Joshua Schwartzbeck, BidPrime's Information Officer and Chief Developer. "BidPrime offers better information flexibility and fast notification of nationwide government purchasing information."
Subscriptions start at a monthly fee of $50. Members at this level receive targeted government bid alerts via email and have the ability to track real-time bid opportunities. Subscription plans for nationwide access and multiple users are a monthly fee of $150. Access to federal-only plans are $20 per month, or $15 per month when coupled with one of BidPrime's state and local subscription plans.
Interested vendors may subscribe to a risk-free, no credit card-required trial for two weeks of free access to BidPrime's federal, state, and local bid notification service.
The following key industries are featured in the new real-time notification of government bids:
-Architectural and engineering RFPs
-Building construction RFPs
-Computer hardware bids
-Computer software bids
-HVAC repair bids
-Janitorial services bids
-Landscaping bids
-Networking and IT services bids
-Security services bids
-Transportation and road construction RFPs
All Federal recovery opportunities are also available. In the coming weeks more niche industries will become available at no cost.
About BIDPRIME - BidPrime is an online subscription service providing government bids and contract opportunities using a "Software-as-a-Service" management interface. BidPrime offers real-time notification of new government sales leads and bid opportunities, with a primary focus on operations & management services, software and information technology, architectural and engineering services, and construction services industries. BidPrime is headquartered in Austin, Texas.
###