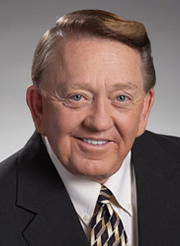 Las Vegas, Nevada (PRWEB) May 15, 2013
Joseph L. Benson, President and Senior Partner of the Las Vegas personal injury law firm Benson, Bertoldo, Baker & Carter, presents a Public Seminar on Personal Injury Rights, June 4.
Benson will be speaking along with special guests Dr. Thomas Vater, a trauma and orthopedic surgeon from Vaterspine, and a worker's compensation attorney with 20 plus years of experience, Javier A. Arguello. The purpose of the seminar is to educate the public about personal injury and work comp legal matters, including rights and benefits of the injured.
When a person is wrongfully injured, it is important that he or she knows and understands his or her rights. Benson will discuss personal injury topics, including the insurance and legal benefits to which an injured person may be entitled, how to best protect those rights, and what options are available should those benefits be denied.
The seminar is free and will be held in the BBB&C Conference Room on Tuesday, June 4th from 6:30 p.m. to 8:00 p.m. The conference room is located at 7408 W Sahara Ave. Las Vegas, NV 89117. For reservations call (702) 228-2600.
About Benson, Bertoldo, Baker & Carter
Benson, Bertoldo, Baker & Carter is a Las Vegas personal injury and workers' compensation law firm that has been serving Southern Nevada citizens for more than 25 years. The attorneys represent individuals who have suffered, or whose family members have suffered, serious injuries or death caused by another's negligence, or else were injured or lost their lives on the job. The attorneys seek damages to replace their clients' harms and losses with unending effort. To schedule reservations for the upcoming seminar on Personal Injury Rights, please call (702) 228-2600.