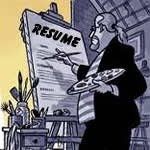 You can send your resume to all the resume writers you want and they can make it look pretty, but if it doesn't get interviews
Gunter, TX (PRWEB) January 17, 2013
On January 22, 2013 Coach Peggy McKee will be presenting a live resume writing webinar, using examples of actual job seeker resumes to show outstanding resumes and how to enhance mediocre resumes to great. The webinar will be held online January 22,2013 from 1:00-2:30PM, Eastern Standard Time. Participation in the webinar is at no charge to registrants See webinar details here: http://careerconfidential.com/improve-resume-free-resume-writing-live-webinar/
The live resume writing webinar will use job seeker-submitted resumes to illustrate how to improve the various parts of a resume. Using a "show and tell" method, McKee will address key areas that hold back many job seekers—appearance, structure, formatting, objective statements, a well-written employment history, and more.
According to McKee, "Most job seekers write their resume as a job history, but don't know how to use it to market themselves as a product in the job search. They miss out on critical ideas to present their history in a way that gets attention and interest from employers."
Peggy McKee is the CEO of Career Confidential (http://www.CareerConfidential.com), a comprehensive online job search and interview resource offering tools, tips, and advice for the job seeker.
"You can send your resume to all the resume writers you want and they can make it look pretty, but if it doesn't get interviews, it doesn't matter," says McKee. "The best person to write your resume is you. You're the one who knows you best—your skills, your accomplishments—and you know your career field better than a resume writer. All most job seekers need is some background in what turns a resume into a marketing document."
Those interested in attending this complimentary webinar can find out more details as well as how to register, here: http://careerconfidential.com/improve-resume-free-resume-writing-live-webinar/
Career Confidential is a rapidly growing job search training company based in Texas that specializes in providing job seekers with powerful and customizable tools and techniques to get the jobs they want fast.
Since nationally-recognized recruiting and job search experts Peggy McKee (CEO) and Carl Chapman (CTO) founded Career Confidential in 2009,has grown from one product, the 30/60/90-Day Business Plan, to more than 30 products to guide candidates through every step of the job search.
If you'd like more information about this topic, or to schedule a coaching session, please call Peggy McKee toll-free at 1-800-691-2562 or e-mail Peggy at Peggy (at) CareerConfidential (dot) com.