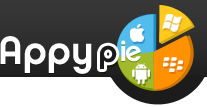 It is crucial that a business is seen favorably, so this is why monitoring online reputation is important.
New York (PRWEB) August 02, 2012
Appy Pie is the world's #1 app maker now allows everyone to create free Mobile Apps. Until now individuals and companies had to spend thousands of dollars and months of their time to create a mobile app to market their businesses and interests. The company now offers Mobile App Development with PhoneGap.
Appy Pie is a free mobile app builder software allows a person/individual to create a highly customized smartphone app with no experience necessary and no coding knowledge one can easily understand that they are no less than professionals in Android Mobile Application Development & iPhone Mobile Application Development. The only requirement for creating an app is to sign up for free and input his information.
PhoneGap is an open source framework which is widely used for building cross-platform mobile applications. The developers make use of HTML, CSS, and JavaScript for creating innovative and rich apps. This is perfect for mobile app developers who want to start with mobile application development and can leverage their existing skills on a common platform rather than with a device-specific compiled language. This is fantastic for someone who is interested in creating a code base which is compatible with multiple devices.
The PhoneGap SDK has an application interface which provides the developer with specific mobile features. Here are some of the typical hardware specific features which are supported by PhoneGap:
Geolocation features
Accelerometer features
Sound enhancements
PhoneGap is an emerging open source cross platform mobile development framework that enables the developers to build hybrid applications for all mobile devices by integrating languages such as CSS3, JavaScript and HTML5. It eradicates the uses of other complicated languages such as iOS Objective C and others.
About The Company:
ApplePie is Trademark of Appy Pie Inc, Appy Pie is the world's #1 Cloud based Mobile Apps Builder Software that allows everyone to create free Mobile Apps. Appy Pie is a Mobile Application Development Software that allows anyone with no technical knowledge to create advanced applications for mobiles and smartphones. Nothing to Download or Install, No Programming Required, Just Drag & Drop. Appy Pie was born in New York in 2011 & At this point More than 5000 apps are produced each month using the Service.