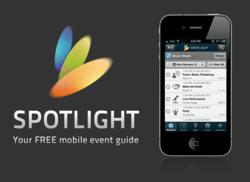 Spotlight offers event organizers and attendees the best possible user experience and a feature set that is superior to many of the premium event guide options available on the market today
(PRWEB) March 16, 2012
Xomo, creators of world-class mobile event guides including the official South By SouthWest mobile app (SXSW GO), have launched a new product called 'Spotlight' offering organizers a free mobile guide for their events.
Launched this week at the SXSW Interactive Conference, Spotlight lets event organizers create a feature-rich native event guide for smartphone users in minutes and at no cost. Xomo's new product is set to revolutionize the way conferences, festivals and other events deliver up-to-date information to attendees.
The initial response has been tremendous with more than 50 events registering within the first few hours of launch.
The Spotlight app includes a location-aware schedule, maps, speaker profiles and social media integration, and organizers are able to include branding for their event. As it is a native app, it includes an exceptional user experience and works offline so users of the app will even be able to view event information and plan their experience without an internet connection.
Xomo Co-Founder, Jeff Sinclair, says Spotlight is built upon the same technology it has developed to deliver mobile apps for SXSW, the Olympics, Social Media Week and many more of the world's largest events.
"Spotlight offers event organizers and attendees the best possible user experience and a feature set that is superior to many of the premium event guide options available on the market today," Sinclair says.
"Our goal is to give every event in the world an exceptional mobile guide, whether it has has 20 or 20,000 attendees."
Xomo plans to keep Spotlight as a free service for all events. Rather than being ad supported, the company plans to introduce premium features for event organizers such as the ability to unlock promotional placements for use by the event sponsors and password protection for securing event schedules.
Spotlight is available initially as a private beta for conferences, and will soon be expanded to festivals and other types of events. Event organizers are encouraged to visit the Xomo team at the SXSW Trade Show Booth 1574 to join the private beta, or visit http://www.enterthespotlight.com for more information.
The Spotlight app will initially be available as a native app for iPhone, and will soon be available for iPad, Android and as a mobile website.
About Xomo
Xomo Digital Inc. provides world-class mobile apps for events. Products include Spotlight, the first FREE native mobile app for conferences, festivals and events of all sizes, and Xomo Mobile Event Guide, a full-featured premium app. Xomo's clients include the Olympics, South By SouthWest (SXSW), Social Media Week, Sundance Film Festival, Lollapalooza, and many of the largest events in the world. Xomo delivers native apps on iPhone, Android, BlackBerry and Windows Phone platforms, and offers a Mobile Website and Embeddable Web Schedule. Visit: http://www.xomodigital.com