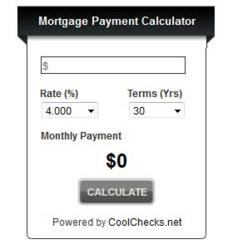 Estimate your monthly mortgage payments, quickly and easily.
(PRWEB) January 22, 2012
Sherry Tingley, founder of Coolchecks.net and principal writer of the website's popular small business and personal finance blog, announced today the launch of her company's free mortgage payment calculator widget, which is designed for two key user segments: individuals and businesses.
Individuals can use the mortgage calculator to assess the affordability of a potential mortgage, and compare various terms and options. It's a simple, quick and accurate way for individuals to keep tomorrow's dream home from turning into a financial nightmare.
Businesses, including (but not limited to) those in the financial, wealth building, real estate, and mortgage industries, can use the mortgage calculator to provide an impressive value added service to their website visitors. The widget installs easily, and can be dragged and dropped to any part of a website or blog. It also comes in a variety of color schemes (black, blue, orange, green and red) to compliment almost any design.
"According to Google's keyword tool, there over 3 million searches a month for mortgage payment calculators, which means that a tremendous number of people are looking for ways to assess mortgage affordability," commented Tingley. "In light of this, adding our new free mortgage payment calculator widget to a small business website is an incredibly smart thing to do – and it costs absolutely nothing. Indeed, finance widgets provide small business owners with a powerful way to share tools with their target audiences, deepen loyalty, and generate repeat business."
Coolcheck.net's mortgage payment calculator widget installs within seconds, is offered in a range of color options, and is offered at no cost. The widget code, along with installation instruction, can be found on the company's blog at http://www.coolchecks.net/blog/managing-money/mortgages/free-mortgage-calculator-widget.html.
###