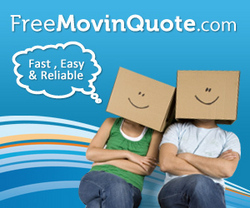 The motivation behind the redesign came from a steady increase of interest from our users
Los Angeles, CA (PRWEB) June 24, 2010
Free Moving Quote recently launched its redesigned website, http://www.freemovingquote.com, to streamline new features and additions to their online services, as well as improve the site's usability. Now, with over ten thousand moving companies in its directory, the online moving resource has added more locations in order to accommodate all of the new listings. Since its content partnership with Yelp and CitySearch, Free Moving Quote is hosting more customer reviews on its site, posting up personal assessments from both websites on different moving companies. These reviews continue to serve as a simple reference point for prospective clients searching for a mover.
Moving options are now clearly defined and organized so users can compare the benefits and downsides of storage services, truck rentals, and full service movers. Free Moving Quote has also added a moving tips section with articles covering a wide variety of subjects related to moving, packing, and planning. Tips about relocation can also be found throughout the website in addition to regularly updated Twitter feeds and news feeds. A list of popular moving companies, latest reviews, and recommendations are shown on different pages based on location.
"The motivation behind the redesign came from a steady increase of interest from our users," said Sheri Katz, CEO of Free Moving Quote. "This interest paved the road for new opportunities to expand our services. We needed to restructure the way our website was organized to include these new features and make it easier to use. We are proud to announce that the new design has been met with wide approval from our users."
About Free Moving Quote
Free Moving Quote has been providing moving tools and resources to help simplify the process of finding a qualified mover since 1997. In addition to providing users with the ability to request free moving quotes form movers that service their area, Free Moving Quote also has a comprehensive rating system so they can do research before moving, as well as a library of articles detailing the different services employed by the moving industry (see http://www.freemovingquote.com/moving-companies). Free Moving Quote aims to provide a one-stop resource for everyone's moving needs, from planning a budget to packing, and beyond.
For more information, visit http://www.FreeMovingQuote.com/moving/.
###