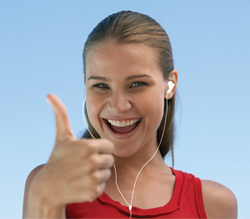 Are you tired of paying for each song you download? Now you can download all the tracks you want for a small monthly fee. If you sign-up right now, you do not even have to pay the monthly fee
San Francisco (PRWEB) August 26, 2010
ZapTunes, a startup in the field of music industry has just launched a ground breaking service in an attempt to solve the problem of free music downloads. ZapTunes.com is the first website ever to offer free and unlimited music downloads to its members. It claims to have the biggest online music catalog, with more than 8 million songs – all in MP3 format and free from any DRM restrictions. And the most important part – it is 100% legal, and plays on all MP3 players and iPods.
Free music download has always been a lost cause. Although there are quite a few websites, some free and some paid, that let music fans listen to unlimited music, such as LastFm, Rhapsody, Spotify, Pandora etc, none of these let the user download unlimited music. Yes, one can purchase individually all the tracks they like, but until now there was no service offering unlimited downloading of music. With the launch of ZapTunes.com, it's a different story now. ZapTunes not only lets its members listen to all their favorite tracks online, but for the first time in the Internet's history, users can also download all the songs they want in MP3 format, for a small fixed monthly fee which has been waived off for a limited time as a promotional offer.
"Are you tired of paying for each song you download? Now you can download all the tracks you want for a small monthly fee. If you sign-up right now, you do not even have to pay the monthly fee," said Anand Patel, the spokesman for the company, at a media briefing here today.
With the rumors of Google jumping into the music industry with 'Google Music', the music industry has been warming up in the past few quarters. All the big players have been struggling to become the first to offer unlimited downloads of free MP3 songs. ZapTunes has emerged as the winner of this race, with a partnership with most of the record companies.
About ZapTunes: ZapTunes.com (http://www.zaptunes.com) offers unlimited music downloads to its members. It has more than 8 million songs that can be downloaded, with about 1500 songs being added daily. All these downloads are 100% legal and the songs can be played on any player, computer or burned on CDs/DVDs.
# # #