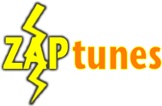 San Francisco, CA (PRWEB) July 16, 2011
ZapTunes (http://www.zaptunes.com/) is a service that provides unlimited music downloads for just a small monthly fee of 10 dollars a month. Users can download as many song as they want, with no limit. ZapTunes has the biggest library of music offered on the Internet and has almost all of the songs from all famous singers. Currently ZapTunes is offering over 8 million songs from singers all over the world.
ZapTunes was launched last year as a website where users could download free music. It became really popular in a small time with over 50,000 users signing up in the first month. However, it was mired with controversy from day one and had to be taken down after numerous lawsuits. Now, after winning and/or settling most of the lawsuits, ZapTunes is back and offering free music downloads.
The timing for http://www.Zaptunes.com to spring back into action is perfect, with the recent launch of Spotify in USA. Although there are quite a few websites, some free and some paid, that let music fans listen to unlimited music, such as Spotify, LastFm, Rhapsody, Pandora etc, none of these let the user download unlimited music. Yes, one can purchase individually all the tracks they like, but before ZapTunes there was no service offering unlimited downloading of music.
Now the music lovers in USA as well as around the world, have a variety of choices for digital music subscription services. ZapTunes is available all over the world, in every country that has Internet. Music lovers can now say bye bye to pay per song music downloads, and get unlimited downloads by signing up at http://www.zaptunes.com.
###