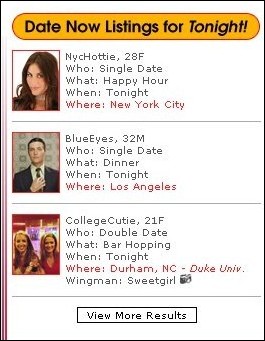 New York, NY (PRWEB) March 1, 2007
IamFreeTonight.com is excited to report that its members have overwhelmingly embraced its recently launched 'Wingman' concept for going on double dates. Numerous IamFreeTonight.com members are utilizing the unique wingman feature and quite a few members have even invited multiple wingmen. Despite being launched just three months ago, IamFreeTonight.com singles have already invited more than 100 wingmen. Having a wingman allows singles to arrange double dates and group dates and view other singles who would like to go out in a group date atmosphere.
In addition to providing a fun and unique twist compared to other online dating sites, having an online wingman at IamFreeTonight.com has several real-life practical dating purposes. Going on double dates or group dates can be a lot more appealing for singles, especially those new to online dating. A double date is generally a more fun environment for singles and can alleviate the pressure or apprehension that occurs with meeting somebody for the first time. Additionally, there's a greater chance for a match to occur in a double or group date environment, due to their being more singles on the date. Furthermore, it provides for a safer environment to go on a date with your wingman.
A wingman is traditionally defined as a friend who is brought along on a singles outing to assist in meeting people. The IamFreeTonight.com 'Wingman' technology incorporates this definition and brings the concept to life on the internet by offering its members the opportunity to invite their friends to be their wingmen on the website. On IamFreeTonight.com, a 'Wingman' is a friend that the user is willing to include in arranging double dates or group dates. All of a user's wingmen are displayed in a section of their profile. Additionally, users can designate a particular friend to be their 'main wingman' and be displayed alongside the user's profile in search results.
The IamFreeTonight.com 'Wingman' concept offers singles a fun and creative alternative to the traditional dating site approach which generally only allows people to meet 1-on-1. Clifford Lerner, eTwine's CEO, states: "The IamFreeTonight.com 'Wingman' concept is unique and truly differentiates our online dating offerings from the competition. Providing people with the ability to meet in a group setting instead of 1-on-1 can reduce the pressure and apprehension that sometimes exists when meeting someone in-person for the first time. Furthermore, by encouraging members to invite a wingman, we believe that this will allow us to capitalize on the type of viral growth that many social networking sites have experienced but few online dating sites have been able to incorporate into their business model thus far."
IamFreeTonight.com is a free online dating service owned by eTwine Holdings, Inc. (OTC BB: ETWI), a public company trading on the OTC BB under the ticker ETWI. In addition to its unique Date Now! and wingman concepts for double dating and group dating, IamFreeTonight.com offers all standard online dating features such as email, flirts, hotlists, 'stats,' and advanced searches. All features on IamFreeTonight.com are completely free.
About eTwine Holdings:
Incorporated in Delaware and headquartered in New York, eTwine Holdings, Inc. was created to offer the next generation in online dating websites. We own and operate two free online dating services. For more information please visit http://www.IamFreeTonight.com.
Forward-Looking Safe Harbor Statement:
This press release contains forward-looking statements that are made pursuant to the safe harbor provisions of the Private Securities Litigation Reform Act of 1995. By their nature, forward-looking statements and forecasts involve risks and uncertainties because they relate to events and depend on circumstances that will occur in the near future. There are a number of factors that could cause actual results and developments to differ materially from forecasted results. These risks and uncertainties include product demand, member activity, market competition, delays in Web site development, and risks inherent in operations. For a discussion of these risks and uncertainties, see filings with the Securities and Exchange Commission. The company's public filings with the SEC are available from commercial document retrieval services and at the Web site maintained by the SEC at sec.gov
###