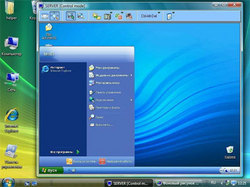 Free PC Remote Control 4.9 is as powerful as similar commercial products. Users can control a remote PC from their local one without any configurations. It is awesome, and yes, we do offer this option for free
New York, NY (PRWEB) December 10, 2009
Remote-Control-PC.com has announced the release of Remote Control PC 4.9, a new free program for remote desktop control and monitoring.
Remote Control PC is a perfect tool for technical support personnel. In some cases it would be much easier to fix the problems remotely than to explain everything over the phone. System administrators of big companies would also appreciate that there is no need to go to all the offices: free PC Remote Control tool offers the feature of remote network management. Thus, one system administrator can successfully perform the work of several specialists. The program can also be used by business travelers: while on business trips, they can access the sensitive data remotely, without using removable media.
Free PC remote control tool offers two modes of connection: Direct Connection and Online Account Connection. Direct Connection is established by using the remote IP address, whereas Online Account Connection mode enables the user to connect to a PC with dynamic or internal IP address via dedicated server. Furthermore, using this mode the user does not have to configure the remote router or open Firewall ports.
As other similar paid remote access software like PCAnywhere (PC Anywhere), free Remote Control PC 4.9 allows user to establish a power management of remote computer. Computer can be turned on or off remotely, as well as rebooted. Also it is possible to disable the remote keyboard and mouse and to turn off the remote monitor.
"Our free PC remote control program is as powerful as similar commercial remote control software, since it enables the user to control and monitor remote computers via LAN or over the Internet with maximum convenience and security. Users can control a remote PC from their local one without any configurations of router or firewall. It is awesome, and yes, we do offer this option for free." - said Yura Goncharuk, CEO of Remote-Control-PC.Com
The interface of free Remote Control PC is clear and convenient, the connection can be established in a few clicks, even a computer illiterate user could cope with this free PC remote control solution.
Features:

Remote PC control and monitoring
No configuration of a router or Firewall is required
High level of security
Low network load
Convenient file transfer, clipboard Copy/Paste
Remote Power Management (reboot, turning on/off)
User-friendly interface
Pricing and Availability
Remote Control PC is a FREE program. It is compatible with Windows 95/98/NT/2000/XP/2003/Vista/7 (32- and 64-bit). Vista multiple user sessions are supported. Further information on the product, as well as on its full-featured edition is available at http://www.remote-control-pc.com/
About Remote-Control-PC.com
Founded in 2009, Remote-Control-PC.com is a fast developing software manufacturer, specializing in tools for remote desktop control and monitoring. For more information on the company and its products please visit http://www.remote-control-pc.com/about.html
# # #