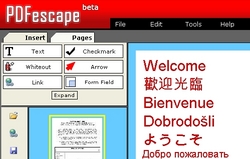 Offering a powerful, free PDF editor is unprecedented!
Encinitas, CA (PRWEB) May 5, 2009
PDFescape, the Internet's first web-based free PDF editor now officially supports Unicode characters, allowing users from across the global to edit PDF files and complete PDF forms in their own languages.
Red Software is pleased to announce substantial updates to its free PDF editor and PDF form filler, PDFescape. Now Unicode compatible, PDFescape allows users from nearly all corners of the globe to edit PDF files and form fill PDF files, free.
"Offering a powerful, free PDF editor is unprecedented!" says Chris Truxaw of Red Software, the group behind PDFescape. "Times are tough and PDF software is expensive. We aim to fix that."
A free online service, PDFescape enables users to fill out PDF forms and edit PDF documents. Unlike similar services, PDFescape allows direct file manipulation, easy form filling, and numerous advanced tools, free. More than just a free PDF reader, PDFescape includes features which many commercial products don't even offer. Add text and graphics to PDF files. Create new PDF form fields for easy data entry. Hyperlink to web content making more useful PDF documents.
Furthermore, PDFescape can merge multiple PDF documents together. Once documents are merged, use PDFescape to reorder and delete existing PDF pages. Secure and protect your valuable documents using password-based security. Save output PDF documents to your local computer, store them online, or email them to yourself or anyone else in the world.
PDFescape is compatible with all major operating systems supporting Firefox 1.5+, Internet Explorer 6+, Apple's Safari 2+ and Google's Chrome.
Red Software is a world-wide provider of PDF software and solutions. For more information, see http://www.redsoftware.com .
###