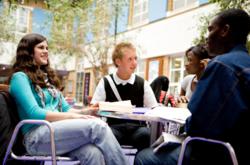 Los Angeles, CA (PRWEB) January 17, 2012
The National Financial Educators Councils' Financial EduNation Campaign is providing free financial literacy material for colleges and universities. This includes financial literacy presentations, curriculum, video learning centers and other tools designed to help colleges nationwide reduce the student default rate, prepare the student body for life after college and to improve graduation rates.
Recently, student loans default rates reached their highest levels reported since 1999, increasing from 7% the previous year to 8.8%, according to an article written by Chris Spurlock of the Huffington Post. The U.S. Department of Education conducted a study that demonstrated a higher student loan default rate among students graduating from for-profit colleges. This figure rose from over eleven percent (11.6%) in 2008 to fifteen percent in 2009.
The NFEC's Financial EduNation campaign provides free financial literacy resources for colleges and universities to proactively address this problem and ensure their graduates receive all the benefits that come with achieving a college diploma. The Financial EduNation campaign provides a variety of resources to assist colleges, including presentations, interactive learning tools, guides for students, parent resources, financial literacy curriculum, student guide and a video learning center featuring exclusive videos with top celebrities.
"Most college students we work with are deep in debt and have no plan to pay off their student loans. The NFEC has found that proactively addressing student load debt and helping them pick up money management skills helps the students feel more confident about their future and it gives them a plan to follow," says Cecile Abad, Community Outreach Director for the NFEC.
Near record-high unemployment figures for college graduates contribute to the default and dropout rates. Also the vast majority of college grads have received little or no financial literacy education. Studies have shown that youth and adults alike fail basic financial literacy tests. Taken together, these facts make it no secret why student loan default rates are so high.
The National Financial Educators Council Financial EduNation campaign provides free financial literacy tools for the financial-aid department and the admissions office to reach those students that need this information. Exposure to a comprehensive financial education while in college can help students learn the personal finance skills needed to maximize their degrees post-graduation.
The NFEC offers free financial literacy solutions for universities to start their outreach efforts. Comprehensive financial education campaigns are also available which include financial literacy workshops, high-profile awareness campaigns, multimedia learning centers, and contests. NFEC programs employ innovations that combine current technology trends with interactive games, creating experiential learning methods to which students can readily relate. Specific NFEC brands Money XLive and The Real Money Experience were designed to connect with college students and move them toward taking positive action steps to improve their personal finances.
###