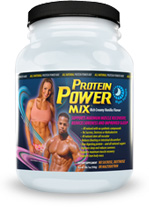 Health and wellness company, True Healthy Products offers four pounds of free all natural protein powder supplement to accompany purchase of fitness supplement for a limited time Holiday special.
(PRWEB) December 21, 2011
Natural nutraceutical and fitness company, True Healthy Products recently added a Holiday Special available for a limited time to give fitness buffs a little extra this Holiday season. For a limited time, the company is offering two 2 pound tubs of all natural and slow absorbing protein, the "Protein Power Mix" nighttime formula with each purchase of the "Daily Optimizer" fitness supplement.
The company's Holiday Special can be found on their website at: http://www.truehealthyproducts.com/limited-time-offer-special.
According to True Healthy Products, the Daily Optimizer was originally marketed as "an all natural supplement to be used by men and women consistently everyday to increase overall performance and well being, increase immune system response, relieve joint and muscle aches and help enhance the body's ability to repair and build muscle."
"Protein Power Mix, nighttime mix is designed to enhance natural recovery capabilities... reduced soreness, more restful sleep, and a better athletic performance when combined with a solid nutrition regimen. The ingredients also help reduce nighttime hunger, leg cramping and lower back cramping."
Formulator for True Healthy Products, Andrew Wood created the supplements to not only deliver high performance results from all natural components, but to be easy on the digestive system. "Your body doesn't need to work very hard to digest and assimilate the nutrients from natural sources. Choosing a natural supplement over a synthetic version provides your body with a healthy dose of nutrition," Andrew Wood, certified nutritionist and formulator.
"For those that are thinking about New Year's Resolutions, this is a great incentive to get to the gym and get on track with a healthier lifestyle, and with all the expense of the Holidays, we wanted to give our customers a little extra for the support they've given us this year," says May in customer support.
For more information about all natural fitness and wellness supplements that are truly good for you, visit True Healthy Products online at http://www.truehealthyproducts.com.
True Healthy Products
2460 N. Courtenay Parkway, #210
Merritt Island, FL 32953
888-400-2920
# # #