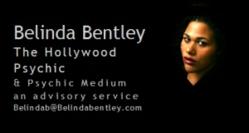 Belinda is the best psychic I have ever met! And there have been many. She is accurate and specific in her readings and she also can help you make informed decisions in love, business, health and [love life]!!
Los Angeles, California (PRWEB) December 11, 2012
Celebrity Psychic Belinda Bentley launches sweepstakes with Sweepstakes Ninja, giving consumers the chance to win a free psychic reading. Belinda Bentley has been featured in numerous media, radio and television, such as Dave Navaro's SPREAD TV, ESPN Radio, Star Inc, OCPC Magazine, and more. Entrants may win a free psychic reading by participating in the free online sweepstakes through Sweepstakes Ninja.
Belinda Bentley is a celebrity psychic that has also been featured in other media such as VH1, E! and her own radio show 'Disturbed Paranormal' with co - host, Hale S. Mednik. Although most celebrity clientele is kept confidential, Belinda has worked with Dave Navarro on Spread TV and has been named his "In House Psychic." She has also been linked to other Hollywood celebrities. In addition to readings, Belinda Bentley also maintains a blog, and has a line of products to help one with their personal love life.
Sweepstakes Ninja gives people the chance to learn about unique companies and unique personalities such as Belinda Bentley, while at the same time giving them the chance to win prizes. People may enter the sweepstakes through the sweepstakes draws (http://sweepstakesninja.com/sweepstakesdraw/draw/celebrity-psychic-reading/). They are daily entry draws, that not only give people chances at winning amazing prizes, but also introduces unique companies to them. Through the sweepstakes draws, contestants have a chance of winning a free psychic reading from Hollywood Celebrity Psychic Belinda Bentley.
The sweepstakes promotion officially runs until January 1st, 2013. To increase their chances of winning, entrants may share sweepstakes links with friends, family, and through social media. This is a win-win situation for both Celebrity Psychic Belinda Bentley and the entrant. No purchase necessary to play. Entrants increase their chances of winning an service that has been recognized in various media.
About SweepstakesNinja.com
SweepstakesNinja.com designs fun and interactive sweepstakes. The company matches consumers with companies, in a fun and interactive manner. Entrants have the chance of winning amazing prizes, and have fun participating in the sweepstakes. Companies benefit from exposure to their brands, word of mouth advertising, customer loyalty, and long term increases in profit. For more details, visit http://www.sweepstakesninja.com/