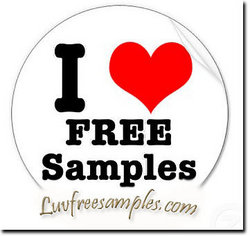 It's a win-win for the companies that develop these products and for the consumers that are in need of them.
Pickerington, OH (PRWEB) April 12, 2011
Luv Free Samples was conceptualized to provide the everyday consumer an outlet to save money and still enjoy products that are of most interest to them. This website was not established to suit one class or lot over another. Luv Free Samples is suitable for everyone across a number of platforms. In the development and establishment of this website, there is a belief that everyone should have access to products regardless of price and the goal is to make it accessible at a discount or for free.
Luv Free Samples is associated with several well established lead generation companies such as Neverblue, Peerfly and EWA. These prominent lead generation companies serve to legitimize the presence of this free samples website and its' offerings. This affiliation makes it possible to offer a variety of products and offers. The products and offers are changing constantly to meet and remain in alignment with current trends, popular product releases and quantified consumer interest.
According to Dan, the website administrator, "Luv Free Samples is focused on minimizing consumer fear about the legitimacy of free products". Among its business priorities, building confidence between not only the product developer, vendors and consumers the product has been released to for feedback it is important that there is a good exchange between all parties. Luv Free Samples hopes to be a meaningful part of that process. Dan further states, "It is a well known fact that in order for businesses to thrive, grow and be successful.. the products that they manufacture must be tested for consumer feedback in order to improve upon that product itself". Hence, the need for free product samples and free sample offers. Without meaningful consumer feedback it is simply difficult to gauge how successful the product will be. Luv Free Samples provides discounted and free samples for items such as free makeup and food deals.
Among many of their free stuff deals is their free makeup. Website administrator, Dan, claims that this is a very popular section of their website and serves to only strengthen the premise upon which the website was constructed. Providing free makeup samples is meeting a consumer need and allowing access to anyone truly quality products in this instance for free. It's a win-win for the companies that develop these products and for the consumers that are in need of them.
Luv Free Samples continues to work with it's established lead generation companies to provide access to quality products for it's visitors. With continued perseverance it will realize it's aim to ensure that "everyone" has access to products they want at a discount or for free.
###