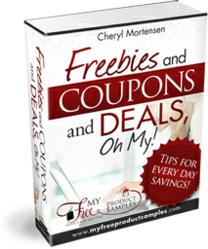 My friends and family love your site as much as I do. Thanks for making it wonderful and helpful. I really do look forward to getting my mail every single day now. " - Melissa Johnson, Follower and Fan
Salt Lake City, UT (PRWEB) April 25, 2012
My Free Product Samples has been teaching people how to save money and get things completely free since 2007. They are excited to be releasing an eBook, Freebies and Coupons and Deals, Oh My! Anyone can download this new savings eBook completely free. Plus everyone who downloads the book will be entered to win a Kindle, a Wii or Cash Prizes.
In this economy, who couldn't stand to save a few extra dollars and learn how to get everyday items for free? Cheryl Mortensen, founder of My Free Product Samples, is the author of this new eBook, Freebies and Coupons and Deals, Oh My! She teaches the best secrets on how to get free samples, understand coupons and get awesome deals every day.
"I'm a complete believer that everyone can and should be getting free things all the time," said Cheryl Mortensen, Owner at My Free Product Samples and author of Freebies and Coupons and Deals, Oh My! "I also know is seems overwhelming and frustrating at first, especially when coupons are involved. That's why I've combined all of my best tips and tricks in this eBook and am offering it for free to whoever needs it. Whoever said nothing in life is free sure hasn't met me or seen my site!"
One of the many ways Cheryl teaches in her book to get things for free is by entering sweepstakes or giveaways. My Free Product Samples holds monthly, weekly and daily contests. This "Head Start to Savings" giveaway is the largest in the history of the site. "I'm so excited to be giving away over $1000 worth of prices. I've got the best readers and I love getting to reward them," remarks Cheryl Mortensen.
To download the eBook for free and enter to win a Kindle, Nintendo Wii, or cash prizes from My Free Product Samples, visit their Facebook page here. The giveaway ends on June 23, 2012.
My Free Product Samples (myfreeproductsamples.com) was established in 2007 by Cheryl Mortensen, CEO. She started with a small blog designed to help friends and family learn about the best deals online and in-stores. It has now become a national website with thousands of followers and social media fans. Cheryl searches the Internet for free samples, coupons or deals. She then posts them with clear instructions for how people can get the free samples or use the coupons for deals in a retail setting.
Over the past 2 years, the My Free Product Samples website has grown over 600% with an average of 35,000 page views daily. It is updated daily and has an active fan base on Facebook, Twitter and You Tube.