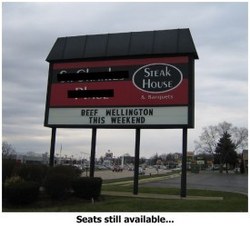 The biggest challenge is the fact that he doesn't have a website.
Batavia, IL (PRWEB) December 2, 2009
Beef Wellington, lounge entertainer and self-described backup member of the infamous Rat Pack, has retained free seo expert George Ajazi to bring him back to center stage.
"Beef is a remarkable singer, but we have tons of optimization work in front of us," said Ajazi. "The biggest challenge is the fact that he doesn't have a website. Zero traffic is certainly less than ideal, but the good news is we have nowhere to go but up (or sideways)."
Wellington's career, which spans several decades, peaked in the 1960s when he seemed to be everywhere, playing late-night gigs off the Las Vegas Strip. "In a way, Frank and Dino were my warm up acts," chuckled the singer during a phone interview. "The stage crews and wait staffs hung on every note. They loved me."
His status in the Rat Pack remains murky, however. Legend has it that after spotting an autographed Wellington headshot at a rummage sale, a Hollywood icon remembered him from Joey Bishop's 50th birthday party years earlier. "Yeah, he was there. I could swear he was the guy with the platter of shrimp."
Central to Wellington's search optimization strategy will be an appeal to a new demographic, according to Ajazi. "We've got to reach out to the younger audience, the 55 to 65 year-olds. That's our new wheelhouse."
Content strategist and SEO copywriter Brad Shorr applauds Ajazi's vision. "Early phase seniors are tailor made for Beef," observed Shorr. "Many of these people are still capable of using computers and actually clock a lot of hours online browsing news sites, looking at porn, and booking entertainment."
Wellington has retained Ajazi on a three-year, exclusive contract. "I have complete confidence in George," said Wellington. "He says it's only a matter of time until I outrank Tony Bennett. No holds barred: we're going all the way."
Upcoming Stops on Beef Wellington's 2009 Tour
December 9. Puposki Community Hospital, Cardiac Care Reception Area, 9:00am – 2:00pm.
December 12. VFW Hall, Lengby. Edgar and Louise Thwackmorton 60th Wedding Anniversary 4:00pm – 6:30pm. (Seats still available.)
December 15. Holiday Inn Express, Blackduck. Pirate's Cove Lounge, 8:00pm – 11:00pm. (Seats still available.)
December 19. Wadena Christmas Parade, Float 7, 10:00am – Noon. (Autographs and photo ops to follow at the SR29 Steak 'n Shake.)
December 26. Bemidji Outdoor Water Park, Skeleton Crew Appreciation Day, appearing with The Lunkers. (SOLD OUT)
About George Ajazi
George has been working in the field of search engine optimization for almost nine years. With a wealth of experience optimizing Fortune 500 brand websites, George has broadened his scope to include free seo services for small companies (unfortunately, due to extremely high demand, George is not taking on any new clients at this time).
###