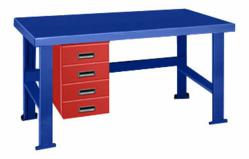 It is time to launch a free freight program. Free is the ultimate customer price offer
Boston,MA (PRWEB) January 12, 2012
In order to facilitate ordering industrial workbenches, A Plus Warehouse is announcing an interesting new program. A Plus Warehouse is offering free shipping on any normally priced order for industrial workbenches on the http://www.apluswhs.com website over $5,000 in value through February 2012. This offer is made to both minimize the pain in ordering industrial workbenches, as shipping tends to be fairly high due to the products' value density, and also to encourage customers to place larger orders. Shipping does offer economy of scale, and the customer get all of that value and additional as well. Of course truckers don't drop their shipping charge to zero above a certain bill of lading size.
A Plus Warehouse has a great offering of industrial workbenches, and the desire is to get more and more end users utilizing A Plus Warehouse service. According to Ed Stairman, President of A Plus Warehouse," Industrial workbenches are a great line, and we need to encourage more customers to order. It is time to launch a free freight program. Free is the ultimate customer price offer." Since 1996, A Plus Warehouse has been involved in offering American made , and some imported products nationwide at A Plus pricing. The company wants to maintain a positive customer relation while broadening the customer list. Free freight is a way to bring more customers into the store.
A Plus Warehouse offers several brands of industrial work benches. These brands include Penco, Edsal, Philocraft, Lyons,Tennsco, Stronghold and others as well. To minimize shipping, many of the industrial work benches provided by A Plus Warehouse ship unassembled. Of course, many customers prefer all welded or setup industrial workbenches, and A Plus Warehouse provides them as well at a fair price.
A Plus Warehouse encourages customers to take advantage of the free shipping offer , but to also consider other items required. Every order has an internal order set up cost applicable to A Plus Warehouse. When a customer combines two pieces of business into one order , A Plus Warehouse saves money and is able to pass the savings along to customers. A Plus Warehouse is not just work industrial workbenches. The company also provides great storage cabinets, conveyors, rolling ladders and loading dock equipment as well.
A few Words on A Plus Warehouse:
A Plus Warehouse is a nationwide industrial distributor providing quality industrial workbenches, lockers, storage cabinets, conveyors, and a wide range of storage and handling products.
###