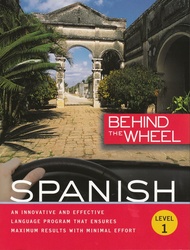 I failed my way to language success.
Danville, IL (Vocus) June 2, 2010
Mark Frobose, America's leading language expert and teacher, is now offering free Spanish lessons this summer online with Barnes and Noble.
A former 'D' student in French, who was once denied access to a French class because of poor Algebra scores, Mark is now America's only living creator of a dominant and successful language method, a major language memory technique, and is the sole author and creator of an entire series of bestselling audio language programs called 'Behind the Wheel' which are now published through Macmillan Audio of New York.
"I failed my way to language success." he says. "And I am a man in love with the languages, cultures, and cuisines of the world." Mark goes on to say emphatically.
"And helping others learning languages is always at the top of my list."
But let's not take his word for it. Let's just focus on what nearly everyone else is saying about him.
Dennis Miller called him 'brilliant' before an audience of two million listeners. Nationally syndicated radio talk show host Leslie Marshall just interviewed Mark live coast to coast on 'Cinco de Mayo' and said his techniques for simplifying language learning are 'fascinating'.
According to bestselling author Alan Weiss Ph.D, one of the world's top business consultants, Mark Frobose is the 'leading language expert in America today.'
In addition to calling him 'brilliant', Dennis Miller of O'Reilly Factor fame recently also called Mark 'very erudite' before a live radio audience of nearly two million listeners.
And let's not forget Mark's student, 30 year veteran professor Dr. Gautam Dasgupta of Columbia University, who says he attests to Mark's 'excellence' as a language instructor.
Even bookselling giant Barnes and Noble is captivated by Mark's creative and unique approach to demystifying and speeding up the language learning process. From July 12th through August 6th , the internet and brick and mortar book retailing giant will feature Mark teaching and simplifying Spanish exclusively for their online customers who want to learn Spanish fast and free.
"I'm teaching for free through B&N's online bookclub tutorial and helping people to become conversational in 'español'." explains Mark. "There is even an opportunity for participants to win a free 'Behind the Wheel Spanish Express' program by going to http://bookclubs.barnesandnoble.com/t5/Behind-the-Wheel-Spanish/bd-p/Behindthewheel " Frobose adds.
A former 'D' student in French, the now multilingual Frobose has been interviewed on most major radio networks from coast to coast and has even been quoted on the AP as a leading language authority alongside Tom Adams, Chief CEO of Rosetta Stone. What's more, Mark's Behind the Wheel language programs received accolades by Men's Health Magazine, who named them a 'great value' when compared to language teaching giants Pimsleur and Rosetta Stone.
Mark's language teaching philosophy is as simple and straightforward as he is.
"I am about simplifying languages to the point that anyone can become functionally fluent quickly and easily in the language of their choice." says Mark, who himself is fluent in seven languages and conversational in many others. "My life and the success of my students are living proof that my unconventional methods really get results."
For a limited time, Mark's website, frobose.com is offering free Spanish lessons and language learning advice on how to learn any language quickly and easily. Mark is also available on a very limited basis as a consultant and private instructor. For media interviews, sponsorship opportunities for Mark's upcoming talk radio program, and for language links, go to http://www.frobose.com. Mark's Behind the Wheel language programs and downloads are available everywhere online and at http://www.macmillanaudio.com and http://www.amazon.com and wherever audio downloads are sold.
###