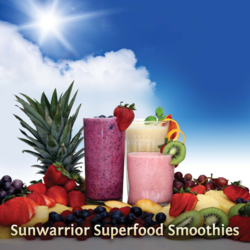 We've done much more than just add a few recipes.
(PRWEB) July 13, 2012
Sunwarrior, a vegan protein and supplement company that creates raw, plant-based products, announced today that they have updated their Superfood Smoothie ebook, more than doubling the amount of recipes, including recipes from celebrity experts in the health, nutrition, and fitness fields, and adding valuable information on individual superfoods and smoothie ingredients. The updated ebook will continue to be offered for free on the Sunwarrior website for anyone who wants it.
"We've done much more than just add a few recipes," said Brent Hauver, cofounder of Sunwarrior. "It's a completely new and different book really. We've added over twenty-five recipes, gathered from our amazing experts and ambassadors, totally rewrote the content to include much more information on the nutrition that can be combined in these recipes, and updated the formatting to be as crisp and beautiful as our website. We're hoping our customers appreciate this small gift we have created for them."
The experts and ambassadors include some popular celebrity raw food chefs, athletes, doctors, nutritionists, actors, and web personalities. Sunwarrior seeks out leading professionals, experts, and authorities in the health, fitness, and nutrition fields to perform as experts and ambassadors for Sunwarrior products and the Sunwarrior mission to illuminate body, mind, and planet. They contribute content to Sunwarrior News, help with events and promotions, and more.
"Our experts have really made this ebook worthwhile," said Hauver. "The recipes they gave us are fantastic. I've tried a few and can't wait to try them all. I'm constantly impressed with the creativity and ingenuity of the great people Sunwarrior is privileged to work with."
About Sunwarrior
Sunwarrior was born on a warm Arizona evening in 2008 during the Sedona Raw Spirit Festival. Three different men with three different dreams met with one desire, to create a company and a product that benefit mankind and the planet mankind occupies.
The three men combined their dreams, their savvy business personalities, and their environmental consciousness to create Sunwarrior, a company committed to making the best plant-based products while elevating humanity and preserving the planet.
Sunwarrior creates healthy, raw, protein powders, supergreens, and mineral supplements perfect for vegan protein smoothies that boost the health of anyone and any lifestyle, not just vegetarians and vegans.
For more information on plant-based nutrition and to download the free Superfood Smoothie ebook visit http://www.sunwarrior.com.