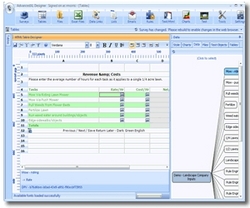 Sanford, FL (PRWEB) January 15, 2008
Sanford, FL January 15, 2008 -- The global analytical services firm Equalssolved LLC released their cutting edge AdvancedXL technology platform this week.
AdvancedXL® Server, Designer, and Data Analyzer enables Microsoft Excel users to create rule driven web applications/surveys that can safely interact with their existing Excel files at runtime.
Equalssolved's largest clients are research and finance companies who need to convert complex Microsoft Excel analysis models into software that can capture data and feed it back into those same models. These enterprise level custom applications be can created, altered, and deployed without IT programmers. Clients use this technology to create web data collection, financial analysis (using their advanced rule and charting engine), business proposal, training / development, and various other types of applications.
Download a free copy of AdvancedXL® Designer or Data Analyzer
at equalssolved.com.
###