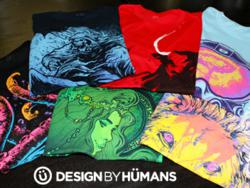 Enter to Win 8 Design By Humans Shirts at TheAwesomer.com
Chico, CA (PRWEB) April 16, 2013
Win eight free shirts for 1st, 3 tees for 2nd, and 2 tees for 3rd. Design By Humans is handing out awesome shirts of 2013. A Free T Shirt Give Away with the Awesomer.com is now live until April 19th. Simply enter your email address for a chance to win up to eight t shirts, a $150 value from Design By Humans. Once you enter the contest you can Facebook and tweet the contest for more entries. Tell your friends to get a larger pool going to win the grand prize of eight graphic shirts or a runner up prize.
Design By Humans is celebrating spring with a Free Tee Give Away with new awesome shirts of 2013. The contest will be hosted on the Awesomer.com from April 15th to the 19th. This will be your chance to enter an email address, then share, like, and tweet the contest for more entries. The winners will be announced the following week via email, and on the Amesomer.com give away page.
The Awesomer Give Away is running at the same time as the "What do you do in your Design By Humans Tee?" campaign on Facebook. Post videos, pictures, or stories with a Design By Humans tee for a chance to win three free tees. So far there are champion yoyo players, break dancers, pics on great trips, and one shaking hands with Barney. For this contest you can submit entries to the Design By Humans Facebook wall and share awesome Design By Humans moments. The deadline is April 30th to post a video or pic of something awesome in a Design By Humans shirt.
The Give Away will be a great chance to give back to the Humans this spring. Anyone can enter from around the world and this is a chance to win awesome graphic tees for free. The sweepstakes will be hosted through RaffleCopter, one of the easiest ways to run a giveaway.
Rafflecopter is a source to host giveaways. As it is a simple widget that hosts emails, Facebook shares, and tweets for the contest. The more entries that are shared the more changes you get to win.  Design By Humans and The Awesomer use this widget to host Give Aways and give back to the fans. 
TheAwesomer.com is a men's fashion, fun, and technology blog on the Internet. They are always full of entertaining posts and information. They feature men's entertainment around the Internet from funny videos to useful life tips and of course nice Give Aways.
Design By Humans features men's and women graphic t shirts. The site is full of creative t shirt designs. The t shirt giveaway is a great opportunity to check out the high quality and awesome t shirt designs at Design By Humans.