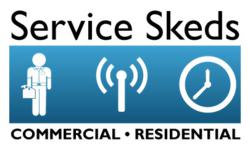 We're confident that this 30 day free trial will show our customers not only how well Service Skeds can work for them, but how far we're willing to go to meet their needs
Fort Worth, Texas (PRWEB) July 31, 2012
Service Skeds, the technology leader in smartphone and cloud-based field service management software, has announced a new pricing structure with a 30 day free trial!
The Service Skeds 30 day free trial will include its Basic Service which allows employees to enter, schedule, dispatch, estimate, invoice and complete work orders in Service Skeds via our website or smart phone and tablet applications. Technicians have access to customer information, can view a map of scheduled jobs and their locations, and can update the status of in-progress work orders. In addition, technicians and dispatchers can add, edit, and view equipment and service call history, update job status, get signature approval, and maintain an on-truck inventory, maintain a parts order list, and utilize the employee time-clock. Service Skeds Basic Service allows technicians and dispatchers to send notifications to customers when technicians are when en-route, and send invoices and surveys when the job is complete. The Basic Service includes capabilities for tracking lead sources and owners can access reports generated using the information entered by technicians and dispatch. The 30 day Free Trial gives customers access to support and training, allowing them to understand and use Service Skeds before they have to pay a dime.
Service Skeds Vice President of Sales, Paul Vishnesky said "Due to the business consumer's economic sensitivity today, we felt eliminating our usual front end start up fees was important. Businesses are looking to implement technology without major investments. We have lowered the cost of our software with some exceptional programming. It is time to pass these savings on to the client to enhance their Return On Investment."
Service Skeds no longer has any activation fees and a new simple price of $69.95 per user. This means that there is no longer a $499.95 activation fee or $99.95 QuickBooks fee. Service Skeds still charges for custom programming and importing previous job history, but with the new highly competitive pricing, Service Skeds is a fantastic deal for any dispatch-oriented company.
Stephen Chambers, Skeds President said "We're confident that this 30 day free trial will show our customers not only how well Service Skeds can work for them, but how far we're willing to go to meet their needs, including going so far as to provide custom programming services. By allowing them to experience Service Skeds for free they are able to determine how much it will help their dispatch performefficiently."
A pioneering movement in field service management software, Service Skeds' new pricing is worth a try. Skeds' willingness to custom program their software makes it the most customizable product any HVAC, plumbing, or electrician based company can find on the market.
About Service Skeds: Service Skeds is field service dispatch and digital work order management software designed to make service companies more efficient and profitable using cutting edge technology and innovation. Service Skeds began with the HVAC industry and offers tailor-made solutions to HVAC customers, but now also can offer a full mobile software solution to any service company with technicians in the field, including electricians, plumbers, and pest control companies. The Service Skeds cloud based online portal allows the dispatcher to keep detailed information on all of their customers, technicians and their equipment, so the status of every job is evident on one screen. Service Skeds is also made to work seamlessly with smartphones, both iPhone and Android, and their tablet counterparts. Service Skeds was founded in 2008 in Fort Worth, Texas and enjoys management with over 20 years of experience in the service and dispatch industries.