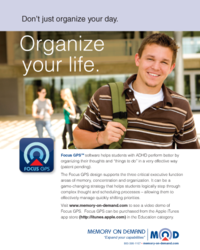 Focus GPS is unique because it incorporates two behavior modification features in its design. These features are called, "What's Up?" and "What's Done?"
(PRWEB) August 22, 2012
Memory on Demand, LLC, announces the release of Focus GPS Lite, a free thirty day trial of an iPad app designed to support the three critical executive function areas of memory, concentration, and organization. The software helps ADHD users to step through complex thought processes and effectively manage shifting priorities. Focus GPS Lite may be downloaded directly from the Apple iTunes store. The complete version, Focus GPS Pro, can be purchased directly from the iPad app store.
Either version of Focus GPS is not like any other ADHD-focused educational app because it recognizes and capitalizes on the ways that the brain and eyes work together. Its patent pending design greatly simplifies the prioritization and analysis of thoughts, tasks, and decisions by utilizing side-by-side (pair-wise) comparisons which enable users to rapidly organize and accurately prioritize unrelated complex thoughts, considerations, and action items.
Focus GPS appeals to parents of students with ADHD because it is designed to help students overcome forgetfulness, disorganization, and procrastination. It appeals to students because of its ability to wirelessly connect them with mentors and friends who can provide them with helpful, real-time feedback when needed.
Dr. William Wagner , Memory on Demand Chief Technical Officer , says " Focus GPS Pro is unique because it incorporates two behavior modification features in its design. These features are called, "What's Up?" and "What's Done."
"What's Up?" enables students to wirelessly send an organized display of their planned daily or weekly activities at any time to one or more support mentors (such as an older student, a parent, a best friend, a tutor, or a friendly coach). Mentors understand these contacts to be silent requests for helpful suggestions about the student's scheduling challenges.
When such a contact is made, the mentor can immediately see an organized view of the student's undone planned activities for that day versus the priority assigned to these remaining tasks by the student. The mentor can then reply to the student with helpful suggestions. The practical and emotional value to the student of this kind of support goes without saying.
"What's Done?" is an app feature which makes it easy for students to email what they accomplished during a given time period to their mentor or mentors. Completed work can help the student earn recognition which helps to develop accountability, a vital factor in helping students overcome procrastination."
. Studies (see below) argue that this type of support is critical to successful behavior modification:
1. "The Perfected Self" by David H Freeman, The Atlantic, June, 2012,
2. "Economic Rewards Through Automated Hovering Help Patient Compliance" by Marie McCullogh,Phill.com, June 26th 2012, and
3. "The Pharmacist is Nudging You to Take Your Pills" By Laura Landro, Wall Street Journal, June 26th 2012.