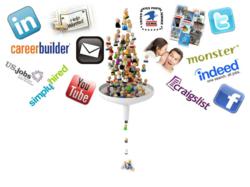 automating recruitment tasks are now a necessity for small business
Lancaster, PA (PRWEB) May 08, 2012
Technology has improved and costs for applicant tracking software have dropped. It's now easier than ever for small business to upgrade their recruiting process.
"That's good news for small business," says Ira S. Wolfe, "because automating recruitment tasks are now a necessity for small business if they expect to fill open positions quickly."
With companies running so lean, an open position means strategies don't get executed and new projects are delayed. Applicant tracking software automates many administrative tasks so recruiters, HR, and hiring managers can focus on more promising candidates.
During the webinar, participants can expect to learn how automated applicant tracking software can control recruiting costs through greater efficiency, screen more applicants from multiple sources faster, and reduce the time to fill open positions.
All users of the Prevue APS receive a free company career website. Wolfe, who is also president of Success Performance Solutions, believes small businesses are turning off top prospects by requesting they submit a resume to an anonymous email. "Our software," Wolfe shares, "allows even the smallest business to create a professional, sophisticated image and experience at a very affordable fee with a low learning curve.
A unique feature of Prevue APS is its proprietary rapid screening filter question system. By assigning point values to each possible response, hiring managers can quickly sort applicants by highest score as well as weed out poor fits effortlessly.
Registration for the webinar is free but reservations are required. Small business owners, managers, HR consultants, and recruiters are invited and can register online.
Success Performance Solutions, http://www.super-solutions.com, is a consulting firm specializing in helping small business to screen faster, hire smarter, and retain longer. In addition to managing Success Performance Solutions, Ira S Wolfe is a speaker on hiring and workforce trends speaker and author of several books including Geeks, Geezers, and Googlization and Perfect Labor Storm.