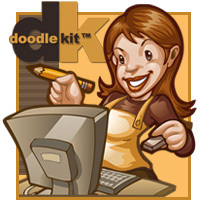 We have had a lot of requests by members for discounted or free websites for non-profit organizations. We are proud to be able to provide that now with the help of Grassroots.org
Kansas City, MO (PRWEB) July 27, 2008
Doodlekit Online Free Website Builder has teamed up with Grassroots.org to provide free websites for valid 501c3 non-profit organizations. Doodlekit will provide qualifying organizations with a $14 a month voucher which can be applied to one of three website building plans they offer:

Simple Plan (normally $14 monthly) - FREE for non-profits
Business Plan (normally $29 monthly) - $15 monthly for non-profits
Advanced Plan (normally $49 monthly) - $35 monthly for non-profits
See Doodlekit's pricing page to compare features for each plan.
"We have had a lot of requests by members for discounted or free websites for non-profit organizations. We are proud to be able to provide that now with the help of Grassroots.org," explains Heath Huffman co-founder of DoodleKit.
Grassroots.org will validate that all applicants are valid 501c3 non-profit organization as well as procure their domains for them. They will also provide customer support regarding questions on how to use Doodlekit.
Organizations wishing to get Doodlekit vouchers will need to fill out an online application through Grassroots.org. They will then have access to Doodlekit through the Grassroots.org Toolbox.
For more information about Doodlekit's discounted website voucher program for non-profits, please contact Heath Huffman at Doodlekit or visit their website (http://www.doodlekit.com).
Grassroots.org is an organization that serves as a catalyst for positive social change by leveraging modern technologies and best business practices. Grassroots.org provides nonprofit organizations with free valuable technologies and resources to increase their efficiency and productivity.
Doodlekit is an online free website builder that allows novices to create their own websites with advanced online tools such as: advanced layouts, multiple color themes, blogs, forums, photo albums, stock image library, form builder, shopping cart, advanced security, built in SEO tools, and much more.
###