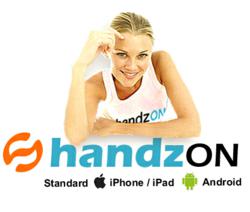 Handzon website builder is perfect for beginners and website designers. Start a free website in moments.
San Francisco, CA (PRWEB) May 17, 2012
Handzon releases the latest HTML 5 Free Website Builder, and extends features to include mobile web sites, setting a new standard on how to build a website quickly and efficiently. There is no programming knowledge needed and nothing to download, everything runs online. See the latest video at http://www.youtube.com/watch?v=NzwzK4ewHBY
Handzon is simple and easy to use for beginners, and websites perform like they are written by a professional website developer. The result is faster pages and better search engine optimization through the use of CSS and HTML5. Hosting is included along with professionally designed website templates for every website.
Handzon has several advanced tools for webmasters and website designers as well. Advanced users get access to CSS on every element on a page. Virtually all of the styles and positional information for an element is handled by CSS in an external style sheet, leaving just content on the page. Developers can add their own JavaScript or style sheets onto a webpage for further customization. The page is kept optimized, using HTML5 as a backbone, which makes the web site accessible on mobile devices automatically.
One of the most exciting features of Handzon is the template editor, allowing instantaneous changes to content across the entire web site in moments. Within Handzon, the template is the background that surrounds all of your page content. What really makes the template editor remarkable is the innovative background layer that is used to create the overall look of the website. Publishing a template takes mere moments, and the changes are automatic on any page that uses that template.
Handzon offers premium paid packages along with a free website version that requires no billing information. There are helpful website building tutorials located within the software to assist new users on how to create a website easily. Handzon supports Mac and PC, and also works with all modern browsers.
About Handzon
Handzon began in 2001 as one of the first interactive software pioneers, with the very first version of their online website builder. Since then, they have continued to innovate and develop software to propel businesses online.
For more information call 415-320-7483 or visit http://www.handzon.com.