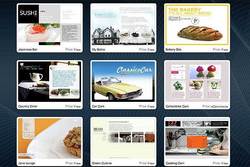 As our international Wix community continues to expand, we continue to provide our users with the latest in web design.
New York, NY (PRWEB) June 18, 2010
Anyone with internet access and a spare five minutes can make a free website from scratch, thanks to Wix.com's revolutionary online site builder. With an intuitive graphic interface, Wix makes it easy for users to add Flash design elements to blank websites, or customize web templates. Today Wix.com released a fresh batch of content offering users an even greater variety of free website design.
Wix Founder & CEO, Avishai Abrahami, comments: "Wix is already a powerful design and promotional tool that users worldwide are using to build successful and marketable websites. But it's always a pleasure to present our users with even more content to create and promote their websites online."
The new content includes both brand new free Flash website templates, as well as individual web design elements including new images and animated icons.
Clicking on a template places it inside the website builder where users can drag and drop design elements in a simple customization process. Themes of the new web templates include Restaurant designs, with images, clip art and site structure well-equipped for pizza parlors, sushi bars, old fashioned diners and classic-style bistros. There are also new Lifestyle-themed templates for users to build websites showcasing their collectibles, advertising their yoga expertise or even business coaching services. Beautiful new Jewelry-themed templates are ready for jewelry designers, resellers and collectors to customize and turn into brilliant new websites.
Wix has thrown in a ton of new content to the free website builder itself. There are new free photos with garden and market images and new animated icons. Users with multilingual sites will enjoy new 3D country flag icons. New page arrows were also added, for users to add cleaner navigation buttons to their sites.
This batch of new content reflects the open communication between Wix.com and its international user base. Wix is constantly looking for user-generated ideas for ways to improve the editor. There's a Wish List inside the Wix Forum where users can make suggestions for content and features they'd like to see added to Wix. There is even a new poll where users can vote for template categories they'd most like to see expanded or improved.
Says Abrahami, "As our international Wix community continues to expand, we continue to provide our users with the latest in web design."
Established in 2006, Wix.com has its headquarters in NY and offices in Tel-Aviv. It is backed by Mangrove Capital Partners, Bessemer Venture Partners and Benchmark Capital. There are currently over 4 million Flash websites on the web that have been created with Wix.
###