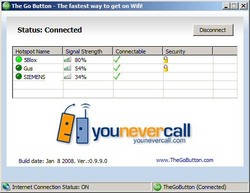 While techies have always been able to find open wireless networks and connect, the majority of laptop owners find themselves frustrated when trying to connect to open wireless networks, especially in urban settings where they may be confounded by a great number of networks, many of which appear to be open, but will not allow internet access
Los Angeles, CA (PRWEB) June 18, 2008
YouNeverCall Inc., a leading online provider of Wireless Cell Phones announced today the general availability of The Go Button a free Windows application that analysts believe will revolutionize wireless internet, by making it available free worldwide. The company's Patent Pending technology enables internet users anywhere to connect to the nearest Wifi hotspot without the need to select a specific WiFi network. "While techies have always been able to find open wireless networks and connect, the majority of laptop owners find themselves frustrated when trying to connect to open wireless networks, especially in urban settings where they may be confounded by a great number of networks, many of which appear to be open, but will not allow internet access," said Sam Michelson, VP of Marketing for YouNeverCall Inc.
TheGoButton extends Microsoft Windows's own Wireless capabilities, simplifying the process of identifying and connecting to open networks. While there are many services and applications that provide maps of available wireless networks, 'The Go Button' (TGB) was created to solve a more pressing need. "We wanted to provide a solution for the businessman or college student who just needs to get online to read some email or Skype with his girlfriend" said Michelson. The Go Button is so easy to use that, once installed, you don't even need to press a button, it simply scans the available wireless networks and finds the strongest open signal in your area. Once connected, users are able to use all internet features including Email, Chat, Voice, and full Web Surfing.
Controversy: While critics have called TGB, a 'Wifi Stealer', claiming that it will enable laptop users to more easily connect to their neighbors' networks, YouNeverCall's extended beta program suggests that the vast majority of users utilize TGB to access networks that are officially open to the public, or to which the user has permission. This is in accordance with the company's terms of use. "By unlocking the wireless internet and making open networks easily accessible we believe more laptop users will be able to use Wifi effectively", said a company spokesman.
Based on the immense interest in the product, YouNeverCall plans a version of TGB for Windows Mobile Cellular as well Mac OS.
About YouNeverCall
YouNeverCall was launched in 2003 to provide great wireless communication solutions with 'extreme customer service'. At nearly 500,000 monthly visitors, YouNeverCall's online cell phone stores offer over 150 models of the latest cell phones and cell phone plans for AT&T (Cingular), Verizon Wireless, T-Mobile, Sprint and Nextel. YouNeverCall also offers cell phone shopping assistance around the clock via phone. To experience YouNeverCall for yourself, visit to http://www.younevercall.com
###